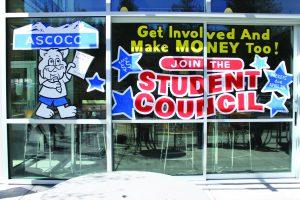 Considering becoming your student body's voice? Candidate packets are due April 26 and applications for appointed positions are due May 20.
The Associated Students of Central Oregon Community College is "a direct line to the administration of the college," according to Gordon Price, director of Student Life.
"They're responsible for spending student fees," Price said. "They represent the students of COCC with integrity, honesty and dedication."
Of the six ASCOCC members, three are elected by the student body. These three then hire three others with the help of an appointment committee, according to Price.
Election packet
To be included in the race for student body government, potential candidates must turn in an election packet, according to Taran Underdal, student activities coordinator and ASCOCC advisor.
The packet must include:
A letter of intent. "Think of it like a cover letter," Underdal said. "You're telling the students why you're a good fit for the job."
Two to three letters of recommendation, including one from a student, according to Underdal.
To meet the requirements, students must be enrolled in six or more credits at COCC, have a GPA of 2.0 or higher, and pass a criminal background check.
Campaigning
Candidates begin campaigning April 29.
"What I honestly think is the most effective way to campaign is talking to students," Underdal said. "Make a goal of five students a day, just letting them know who you are and why they should vote."
There are many other ways of campaigning on campus, explained Underdal.
Use Facebook pages and gather support through Facebook.
Posters are essential advertising tools.
Sidewalk chalk art may be displayed in specified areas on campus.
Tabling. "Set up a table," Underdal said. "Pass out info to students. Encourage them to vote."
Attend club meetings. At club meetings, Underdal said, candidates can find students who have "a vested interest in how student fee money is spent."
Candidates shouldn't try to run alone, according to Underdal.
"Make sure you have other people supporting you," Underdal said.
Price encourages students interested in running or applying for office to talk to him or Underdal, as well as the current council members.
"If you have a chance to come to a student government meeting, I think it'd be a great chance to see what they do," Price said. "Ask the members what it's like."
–Scott Greenstone
The Broadside
(Contact: [email protected])