Operation Don't Go Broke is devoted to bringing readers helpful tips on ways to save in college.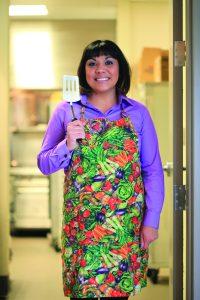 Students struggling to make ends meet might not be able to afford all-natural "health foods" at every meal, but there are ways to eat healthy without breaking the bank.
Don't waste money on "empty" calories. Stop spending so much money on sugary beverages, processed food and fast food. Save your money for whole foods high in the nutrients your body needs like fruits, vegetables, nuts and seeds.
Eat less meat. Many Americans consume more meat than recommended. Buy high-quality meats and fish, but eat smaller portions. Affordable protein alternatives include: beans, eggs and legumes.
Cook up large batches and freeze leftovers. Casseroles, soups and chili are perfect for freezing. Having a freezer stocked with these dinners will keep you from going out when you don't have time to cook.
Make it from scratch. Prepare your own sauces, dressings and broths to lower your grocery bill and sodium. Keep "the basics" on-hand and discover new recipes online.
Load up on whole grains. Oatmeal, brown rice, whole-grain pasta and whole-wheat bread offer more of the fiber your body needs to feel full.
Snack on fruits and veggies. Keep bananas, apples, oranges, baby carrots and celery around as go-to snacks.
Spring Salad
Spruce up a boring salad with seasonal fruits.
Ingredients:
Leafy greens
Cucumber
Strawberries
Blackberries or raspberries
Walnuts
Feta cheese
Balsamic Vinaigrette:
3 tablespoons balsamic vinegar
1 tablespoon Dijon mustard
1 garlic clove, minced
1/2 cup olive oil
Salt and pepper
Directions:
Slice vegetables and fruits. Toss all salad ingredients.
For the dressing:
In a small bowl, combine vinegar, mustard and garlic. Whisk in the oil. Season with salt and pepper to taste.
Lemon Bars
A  tasty dessert that won't set your diet or your budget back.
Ingredients:
For the crust:
    1/4 cup granulated sugar
    3 tablespoons butter, softened
    1 cup flour
For the filling:
3 eggs
3/4 cup sugar (or sugar alternative)
2 teaspoons grated lemon zest (rind)
1/3 cup lemon juice (fresh!)
3 tablespoons flour
1/2 teaspoon baking powder
1/8 teaspoon salt
2 tablespoons powdered sugar
Directions:
Pre-heat oven to 350 degrees. To prepare crust: Beat 1/4 cup granulated sugar and butter until creamy. Add flour, beat until mixture resembles fine crumbs. Press mixture into bottom of an 8-inch square baking pan. Bake for 15 minutes and let cool.
To make filling: beat eggs until foamy. Add 3/4 cup granulated sugar, lemon zest, lemon juice, flour, baking powder and salt. Beat until well-blended. Pour mixture over crust.
Bake 20 to 25 minutes, until set. Sift powdered sugar evenly over the top and cut into squares. Makes 16 small lemon bars.
Egg-in-a-Pepper
Jump start your day with a well-balanced breakfast.
Ingredients
1 egg
1 half-inch thick bell pepper ring (any color)
1/4 teaspoon of olive oil or cooking spray
salt and pepper
1 whole wheat English muffin or bagel
(or two slices of whole wheat bread)
Grated cheese (optional)
Directions
Spray a small non-stick frying pan with cooking spray or coat with 1/4 teaspoon of olive oil. Heat pan to medium. Place pepper in pan and crack open egg in the middle of the ring. Sprinkle with salt and pepper and cook for 2-3 minutes. Flip egg ring over and cook for an additional 2-3 minutes. Toast English muffin. Serve egg ring on muffin and top with cheese if desired.
No Meat Crock-Pot Chili
A $10 meal in under 10 minutes.
Ingredients:
1 chopped onion
1 can diced tomatoes with liquid
½ can tomato sauce (15-ounce)
1 tbsp chili powder
1 tsp powdered cumin
1 small can corn
1 can red kidney beans
1 tbsp cornstarch
Shredded cheese
Directions:
Before you go to class in the morning, throw the vegetables, tomato products, beans and spices into the crock pot. Cover and cook for 6-8 hours on low until vegetables are tender. Turn heat to high. Mix cornstarch with a dash of cool water until smooth, and add to the chili. Stir well. Uncover and cook until slightly thickened. Sprinkle shredded cheese on top.
Tip: Freeze leftovers.
Second year COCC nursing student Anna Quesenberry is a wife and mother of two who is passionate about saving money.