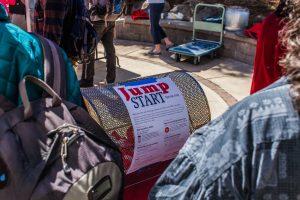 Bingo, catered lunch and a family fun night: these were some of the ways that Student Life welcomed students to a new term.
The series of events was part of Jumpstart, which is organized by Student Life at the beginning of each new term to help students get acclimated to Central Oregon Community College, according to Gordon Price, the director of Student Life.
"Opposed to an orientation, this is more of a welcome week," explained Price.
Price believes Jumpstart is a way to "introduce" new students to the campus and also to welcome back other students.
"Throughout Jumpstart, and at the info fair, we try to get students in touch with campus life," Price said.
Some students at COCC's branch campuses feel left out of the festivities.
Branch campus students expressed frustration that few activities are hosted outside of Bend, reported Eliot Collins, the director of Student Affairs of the Associated Students of Central Oregon Community College during their meeting on April 5.
In future years, Price said he would like to expand the Jumpstart program to be more inclusive of branch campuses, but the bulk of events will still be on the Bend campus.
"We don't have the amount of interest needed to do Jumpstart full time at all other campuses," explained Price.
However, Student Life does want to make sure the branch campuses feel included, according to Price, and they have things like bowling nights in the works for other areas.
Price believes Jumpstart is an important part of COCC and hopes to see it continue.
"[The goal] is to keep doing Jumpstart," Price said. "It is a pretty cool program."
–Molly Svendsen
The Broadside
(contact: [email protected])