Oregon's Vortex
179 miles
Head to southwest Oregon and experience the mind-boggling attraction known as the Oregon Vortex. Strange phenomena occurring at the vortex is caused by a "whirlpool of force" that challenges perceptions of reality. Objects roll up hill at the vortex, standing objects on level ground appear to be at an angle and people notice significant height changes as they walk through the vortex.  The Oregon Vortex is fun for all ages and is open daily from 9 am to 4 pm. Admission is under $10 a person and camping is offered nearby at the Valley of the Rogue State Park.
Ashland
186 miles
This quaint little town is home to one of the oldest regional theatres in the country, Oregon Shakespeare Festival. With a rich history in live theatre, Ashland offers a wide variety of  performances to choose from daily. For those with young children, the Scienceworks Hands on Museum offers endless hours of entertainment to ward off boredom. At the end of the day, visitors can take a stroll through Lithia Park nestled in the middle of downtown. The park offers a variety of  tranquil walking trails as well as many picnic sites along the Ashland Creek.
Forest Park (Portland)
183 miles
Skip the shopping centers and get lost in one of the largest urban forest reserves in the country this spring break. Forest Park, west of downtown Portland, stretches for more than 8 miles and is home to over 100 bird species and around 60 different species of mammals. Bring your dog along for a fun-filled hike through old growth with your best friend. Pack your camera, rain gear and a lunch and wear comfortable hiking shoes.
Smith Rock
26 miles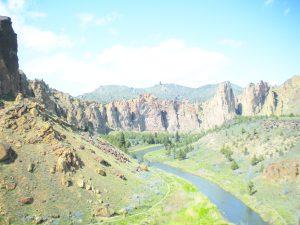 With more than 651 acres of scenic trails and rock climbing opportunities, this park is the perfect spring break destination for any outdoor enthusiasts. There are many hiking trails, and the sheer, rimrock cliffs are optimal for rock climbing of all difficulty levels. For more experienced climbers, the most popular route, Monkey Face, offers a more than 350 foot climb     After a full day of hiking or climbing, visitors can unwind at one of the picturesque picnic areas, that offer information about the history of the scenic grounds.
Silver Falls
131 miles
Sitting as the gateway to the Cascades, this beautiful State Park sports some of the most lush and hidden waterfalls in Oregon. There is plenty of hiking trails as well as viewpoints close to the road so the sites can be seen by all types of outdoor enthusiasts. Visit North Falls for a chance to walk behind one of the waterfalls, or go to the park viewpoint for a dramatic west perspective of rolling hills falling into the Willamette Valley.
–The Broadside staff