Scott Greenstone
The Broadside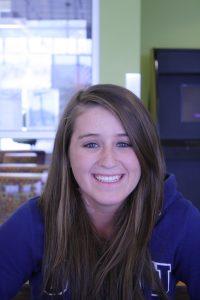 A roller derby girl. The images that may have come to mind are of an aggressive warrior on wheels, someone very different than the shy Mileah Tiernan. However, this high school student  has captained the Lava City Roller Dolls several times.
Tiernan, a 17-year-old enrolled in an early college program at Central Oregon Community College, was unsure about roller derby a year ago when her sister asked her to try out.
"Oh, geez, it's gonna be crazy people," Tiernan said at the time.
Despite her reticence, when she gave it a chance, Tiernan instantly loved the sport.
Roller derby adheres to a thick rule book and numerous referees are present during every match. Tiernan said the sport helps her deal with stress despite the pressure.
"I get to let out aggression in an okay way—skate it out and get an adrenaline rush through exercise," Tiernan says.
Besides the stress reduction, she has developed a close bond with the other girls in derby.
"The girls on my team are like sisters," she said.
Though a comfortable environment for Tiernan, roller derby has also been dangerous and rife with emotion.
"Sometimes I even want to cry. Some people think its fake. There was a girl hurt last week and someone said, 'That's so fake!' Her shoulder was popped out; I assure you, that's not fake."
"But," Tiernan added, "I still feel great after the match. Even when I lose."
Roller derby is an important outlet for Tiernan from her busy schedule at COCC. She's enrolled in Baker Early College, a program that allows her class credits to go toward both a high school diploma and an Associate of Arts Oregon Transfer degree. She hopes to have both of these by the end of this spring term.
She hopes to one day be an anesthesiologist, a job that not only plays to her strengths but is coveted in healthcare today.
"Every time I go to the doctor," Tiernan said, "My mom and I ask them, 'If you were to do this all again, what would you do?' The answer is always 'I'd be an anesthesiologist.'"
For Tiernan, college and roller derby are both important parts of the journey to a fulfilling future.
Know someone interesting on campus? Let Scott know.
Contact Scott Greenstone at
[email protected].