Degree vs. experience
Are your chances of getting hired greater if you have a degree, or is prior experience in the field more important?
Tracy Dula career services coordinator at Central Oregon Community College, believes that both degree and experience of a potential employee play a part in an employer's decision.
"It's a combination, it really depends on the type of work you are applying for," Dula said. "Getting a job is really about marketing yourself for a specific position,"
Job-seekers should use all aspects of their life to market themselves for a job. This includes education, work experience, as well as life experience, explained Dula.
Dylan Darling, public lands reporter for The Bend Bulletin, believes that while it is important for students to have a degree, job experience also holds equal value.
Darling completed three internships while still in college and believes this was the reason he was offered a job before earning his degree.
"Students," said Darling, "should find ways to get job experience while continuing to earn their degree."
Even if students get a job before graduating it is best to still finish their degree, explained Darling.
"You do need a degree," said Darling. "If you don't finish [your degree], there will never be a convenient time to come back to school and finish."
Top COCC degrees
1. 726 Allied Health ( pharmacy tech, medical assisting, dental assisting, veterinary tech)
2. 597 Business, includes both AAOT and AAOS degrees
3. 577 Nursing
4. 576 Exploratory majors
5. 448 Science & Engineering
6. 310 Computer Information Services
7. 252 Culinary
8. 234 Education (includes certificate and bachelor's degree track)
9. 206 Criminal Justice
10. 156 Automotive
11. 130 Manufacturing
12. 128 Psychology
Information from Mike Smith, interim director of the CAP center.
How important is networking?
Students can start networking now to make connections they'll need when they graduate.
What is networking?
It is important to build a professional network, according to Tracy Dula, Central Oregon Community College's career services coordinator.
"A professional network," Dula said, "is basically just starting to do outreach to people in your field who would be able to mentor you or give connections."
Network on campus
Networking is the main benefit to working on campus, according to business major Steve Ritter.
"Networking is important," said Ritter.
He interacts with a wide range of students from culinary to journalism majors tutoring in COCC's SMART Lab.
Online networking
Connections are happening online through social media sites such as Facebook and Twitter, explained computer information systems professor Ralph Phillips.
"A lot of contacts are made using social media," Phillips said. "You can communicate with other people in your field and get good contacts via social media."
Volunteering
One way to network is to volunteer in the field you are interested in, Dula said.
"Volunteer experience always holds value," explained Dula. "It looks good on a resume, it gives students experience in a field and helps students begin to build a professional network."
Networking tips
Be professional
Be noncontroversial
Be open-minded
Be yourself
Resume writing tips
Highlight your strengths
Be brief and to the point
Don't waste space
Have someone proofread your resume
Check grammar and punctuation
Review it with a career services counselor
Could your Facebook habits keep your from landing your dream job?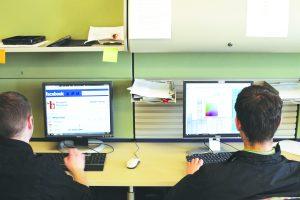 Social media is everywhere, even the workplace. Facebook now affects the hiring and firing process, according to two Central Oregon Community College professors.
Technology has increased how "casual" and "informal" job-seekers and employees are becoming, according to professor of psychology Andria Woodell.
"Sometimes, when you're too informal you don't think about how you should carry yourself in a job interview," Woodell said. "You might end up not getting picked because of informalities."
Job-seekers should understand the direct impact social media is having on the hiring process, explained computer informations systems professor Ralph Phillips.
"[Employers] Google applicants, and look at their Facebook profiles which can affect hiring," Phillips said.
Job applicants should maintain professional Facebook and Twitter accounts and avoid posting about controversial issues, explained Phillips.
An employer prefers applicants whose social media accounts exude "experience, knowledge and professionalism," Phillips said. "If you're using social media for corporate networking, then it is not the place to share your personal opinions."
Technology is a useful tool in the workplace but it can hurt professionalism, according to Woodell.
"You have to be careful what you post online," Woodell said. "People have been fired because their employer sees what's on their Facebook."
A paying gig on Facebook
Are you social media savvy? Imagine getting paid for your time spent on Facebook.
Social media's impact in the workplace is growing. Companies are now looking to hire "Facebook experts," according to Central Oregon Community College's computer and information systems professor Ralph Phillips.
Students could potentially supplement income by working part-time managing social media accounts for companies, according to Phillips.
Businesses should commit time and resources to maintaining a Facebook site and a Twitter page, explained Phillips. Posting at least two to three times a week is a must.
"If the content on the page goes stale," Phillips said, "they may as well not have done them at all."
Facebook allows businesses to reach out to a wider customer base, Phillips said. Businesses can stay "connected" with customers through Facebook and announce sales and promotions on Twitter.
Customers are more likely to go to a business they know is still actively engaged in the market, according to Phillips.
"[Facebook] keeps their name fresh," Phillips said. "It keeps their name out there."
–by Molly Svendsen
Anna Quesenberry
Aaron Fennel
(Contact: [email protected]
[email protected]
[email protected])