Scholarship donors provide money and motivation that propel students to success.
Since 1955, The Central Oregon Community College Foundation has provided over eight million in scholarship money to students at COCC. In 2011-2012 nearly $800,000 was awarded to 320 students according to the Foundation's executive director Jim Weaver. The Foundation will be awarding full scholarships of $3,200 in 2013-2014.
These awards hold more than just their monetary value, explained Weaver.
"Many students say it is both the financial difference; to be able to go to school," said Weaver, "but also how much it means when someone believed in them."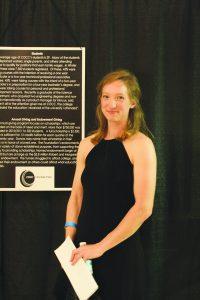 COCC aviation student Ashley Miller agrees with Weaver. In 2012, Miller was awarded The Kyle Sonnen scholarship.  This scholarship was created in memory of Sonnen, who was killed in a car accident while enrolled in the aviation program at COCC.
"This scholarship brings it to a whole other level," said Miller . "If somebody else that I don't know is willing to support me, then I can believe in myself."
Scholarships like the one Miller receives are donor funded, either through direct donation or an endowment that has been created through donor trusts.
"Most [donors] are not wealthy people," said Weaver, "just people who are inspired by the profile of the students applying."
Bend residents Pat and Bob Fulton have been donating to the foundation for over 10 years.
"We've seen the impact it has had on peoples lives," Pat Fulton said.
Bob Fulton paid his own way through college, and is the first to recognize that he had help along the way.
"No one is ever self made," said Bob Fulton. "Someone, somewhere has reached down and pulled you up."
Bob Fulton is now trying to return that favor.
"I feel you have an obligation to give back," said Bob Fulton. "If you've got the resources, give someone else a boost."
Miller, who recognizes that the financial award hardly covers the cost of the aviation program, is still appreciative of that boost.
"Every little bit helps," said Miller. "Everyone has been very supportive. It speaks a lot about the Central Oregon community."
This support seems to go a long way. In 2011-2012, COCC students who received scholarships had a .5 higher grade point average and were 27 percent more likely to earn a certificate or degree than those who did not, according to COCC Foundation statistics.
Where:
COCC financial aid website
When:
Deadline is July 15th
Who can apply:
COCC students with a minimum 2.0 GPA
Must be in-state resident since Sep.2012
Be enrolled in degree or certificate program
Demonstrate financial need through FAFSA
Tips on essay questions:
Apply early
Proofread
Take your time "answer questions before hand, then copy and paste," said Jim Weaver
Be yourself, "When you Apply for Foundation scholarship tell your own story," said Jim Weaver.
Get help from the COCC writing lab
–Darwin Ikard
The Broadside
(Contact: [email protected])