Alex Hogen believes that homeschooling helped him in continuing his education. 
Molly Svendsen
The Broadside
Hogen, a second year student at Central Oregon Community College was homeschooled from second grade through high school graduation. "Being at home and being closer to friends and family was really a blessing," said Hogen.Being schooled at home was an asset to further education for Hogen because his previous studies were more intense. Before starting college classes, Hogen had already completed some of the coursework.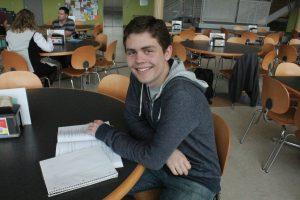 "Before starting taking trig., I read through the entire precalculus book, so I was basically just redoing stuff I'd already done," said Hogen. "My first term it was almost like 'wow, this is lame' compared to high school." During the transition from homeschool to college, Hogen found the size of the student population at COCC was not a problem, although at times it could be a little overwhelming. "If it does seem like a huge class, I'll sit in front sometimes so that it feels like it's a smaller class size." said Hogen. "It [also] helped to have students who I knew in the classes, so it felt like I wasn't as alone." Students who were homeschooled face nothing different than what those who attended public school face, according to Hogen. "Public school students don't know what homeschooled students go through," said Hogen, "and homeschooled kids don't know what public school students go through." Hogen believes that success is not measured by where your diploma is from, or if you even have one. "You don't really need to have a GED or diploma to be successful," said Hogen. "My diploma was from Hogen family homeschool…it was signed by my mother." Hogen's future plans are to transfer to Oregon Institute of Technology in fall 2013 to study electrical and mechanical engineering.
(Contact: [email protected])