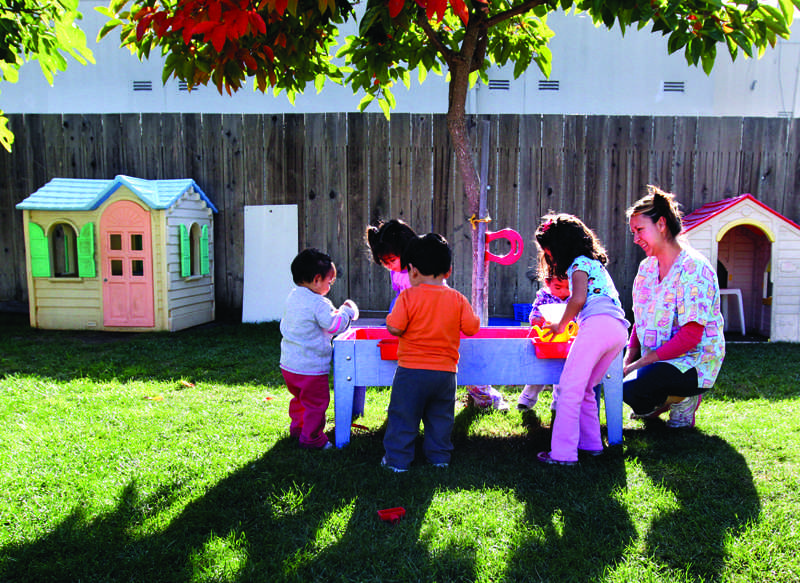 For student parents, lack of affordable child care can be a hindrance in earning their degrees. A potential solution to the problem is childcare assistance provided by the college.
In spring 2012 the Student Affairs Committee at Central Oregon Community College commissioned a Child Care Task Force, comprised of faculty, students and members of the Associated Students of Central Oregon Community College. Their job is to explore the options of child care services that COCC may be able to provide, according to Alicia Moore, dean of student and enrollment services.
Darwin Ikard            
The Broadside
"Right now we are gathering information, and finding the needs of our students," said Eliot Collins, ASCOCC director of student affairs. "We are looking at all the facets, from no services to full child care"
One step to addressing student need is to make the campus a more child friendly environment, according to Amy Howell, Early Childhood Education director at COCC.
"One thing the Task Force has looked at critically is the campus policy of children on campus," said Howell. "There's been a sense that it is not a child friendly campus."
In order to change this, Howell has been working with faculty and students to develop more child-friendly events on campus.
On Mar. 16, the Saturday before finals, Howell and other volunteers will be hosting one such  event in the Barber Library. As part of the Paw Prints program, students can bring their children for story reading and other activities, while parents study or possibly meet with advisors.
"We have a high quality volunteer staff available here now, through ECE," said Howell. "I think individually people around campus are wanting to take steps to support students."
Another concern of the Task Force is how the lack of adequate child care affects student retention rates, according to Howell.
"It's not uncommon for students to have to chose between parenthood and education," said assistant professor of psychology at COCC and Task Force member Matt Novak.
Novak has had students in the past who have dropped his class because of the lack of child care, and he sees this as contrary to the college's mission.
"It's clear to me that potential [child care] services can be beneficial to students," said Novak. "We could increase retention rate, lower dropout rate, and improve grade performance with better child care services. These are the college's goals."
This need to support students is echoed throughout the Task Force, but all members come back to the question of funding.
"[In the past,] ideas of subsidies or grants was financially unmanageable," said Collins. "The question is, where is the money going to come from?"
A potential source is student fees, but this is a touchy subject as only a minority of students are in need of childcare services, according to Collins.
"The moment the raising of student fees comes up, the conversation comes to a grinding halt," said Collins. "We just don't have the student voice yet."
Regardless of the complexities, the Task Force will continue working on the childcare issue and will be submitting a report to the Student Affairs Commission in the near future.
(Contact:[email protected])