Scott Greenstone
The Broadside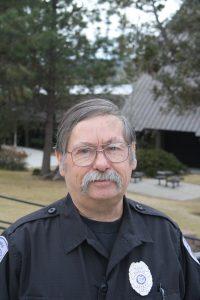 When Lloyd Johnston was laid off, despite nearing 60, he felt relieved.
"I had been managing a tractor mechanic shop for a long time, the company was struggling, and I was stressed," he said.
Because Johnston wants to work with kids, it didn't take him long to find his new career path: a juvenile probationary officer. He feels "blessed" by the staff and students of the Criminal Justice program.
"Central Oregon Community College has helped me all the way," he said.
Johnston was still searching for his direction in the Criminal Justice program when, near the holidays a year ago, he visited a juvenile detention center.
"No one comes to visit these kids for the holidays—they're by themselves… and I thought, 'you know what? I want to help these kids," he said. "I want to keep them out of the prison system. Somebody needs to show them that somebody cares."
Johnston believes that God brought him to this choice.
"Even though it's hard to get classes at COCC, the doors just opened up. I believe God directed my path and prompted my heart to help kids," he said.
Johnston was one of the first students to sign up for the cadet program at COCC when it started. The program entails a lot of patrolling on-campus and training in teamwork skills and how to respond in emergency situations, Johnston said.
Johnston's relationship with COCC didn't end with education; as of February, he became the evening safety officer at the Redmond campus.
"Our program is only a few months in the making and we've already been able to recruit one of our cadet students to an officer position. This is a true success story," said Jim Bennett, COCC's Campus Public Safety Coordinator.
Johnston believes that, no matter what the situation, the program has taught him to respect his fellow students.
"We're there to serve and keep people safe. The people I work with, you see that in their work—they're dedicated to their jobs," he said. "It's not 'let's go out and harass some students today,' it's 'what can I do for you today?'"
Any student interested in finding out more about the Campus Public Safety Cadet program may contact Program Coordinator, Officer Kristina Blake at (541) 383-7272 or via email at [email protected].
Know someone interesting on campus? Let Scott know.
Contact Scott Greenstone at
[email protected].