Cedar Goslin
The Broadside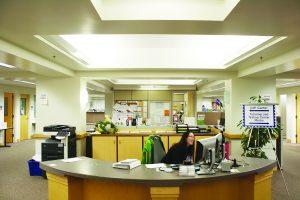 Between making the grade and finding a job that fits your class schedule, there is a lot of potential chaos in a college student's life. What Central Oregon Community College students may not know is that the campus offers them a lifeline: The Career Services-Academic Advising-Personal Counseling (CAP) Center.
The CAP Center's resources are available to all students. Career assistance is even available to post graduates. The career services are intended to guide students into the right career path or major, or even get students in touch with employers looking to hire college students, who are willing to work around a class schedule, according to Thurman Holder, a CAP center advisor.
The advisors also help new students who are getting settled into the college community and academic assistance to current students who may be struggling academically.
"Sometimes it's a matter of working with students who for some reason or another had a couple bad terms," said Holder.
Students can sit down one-on-one with an advisor to discuss how to become more successful and learn which classes would be most beneficial for their major. Academic planning extends all the way to learning how to apply for graduation and looking into transferring to other colleges.
"It helps them be successful at whatever they need to do," said Holder.
A number of counselors employed through St. Charles are available to offer personal counseling to students as well, according to Holder. This gives students a confidential area to talk about anything they may be going through, whether it relates to school or not. There is no charge for the counseling service.
Placement and nursing testing is also provided to students through the Tutoring and Testing Department of the CAP Center. General test taking tips and more information about qualifications to take the placement exam can also be found on COCC's CAP Center website.
The center is located in the Barber Library with a staff ready to help students make appointments.
"It's a great resource for students," said Krissa Mattox, a receptionist in the CAP center.
Information contributed by Natalie Carter.
(Contact: Cedar Goslin at [email protected] and Natalie Carter at [email protected])