Higher education may not be the best option for some people who find themselves homeless.
Many members of the homeless community see attendance at Central Oregon Community College, and the subsequent financial aid, as a path toward a better life, according to Chris Clouart, the manager of the Bethlehem Inn. However, he said many end up right back where they started because they lack the resources to succeed. Clouart has worked at the Bethlehem Inn, a community-funded transitional shelter in Bend, since 2007. In that time, he said he's seen many people make the mistake of going to school before they were ready, which often results in a debt they can't pay.
Darwin Ikard
The Broadside
"Some people are going to school who are not good candidates for higher education," said Clouart, "it's an opportunity not to be homeless; the motivation is to get the money to live on, and then they struggle in school."
Clouart sees this "quick fix" mentality as a pitfall for some individuals that he is trying to help, and worries about the long term effect.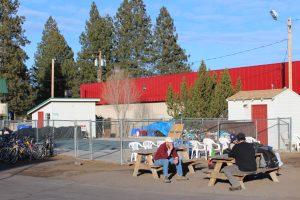 "The horrible thing about poverty is that every decision is looked at in the short term," said Clouart. "I'm all for higher education. I'm all for people bettering themselves, [but] will these people be able to handle the debt? That's the problem."
Gwen Wysling, the executive director of the Bethlehem Inn, shares Clouart's concerns about student loans and the homeless.
"It seems like a bit of a setup for people. A lot of these guys don't know what they are getting into," said Wysling. "We see people with the intention, but not the understanding to succeed."
Bethlehem Inn provides residents with basic needs, according to Clouart, but it does not fit all of the needs of a college student.
"It's difficult," said Clouart. "We don't have a computer lab. We don't have a quiet place for people to study."
Jim Ku, a COCC student who works as a night monitor at the shelter, has seen first hand some of the challenges that these students face.
"Not having your own space, not having transportation, dealing with the rules of community living, these are the big challenges," said Ku.
Despite these hurdles, some do succeed in higher education, but face a difficult task when trying to re-enter the job market, according to Clouart.
"I remember a woman in her fifties who went back to school to get a bookkeeping degree. She did everything right, got her certificate," Clouart said. "In her mind she would be guaranteed a job making $80,000 a year. She couldn't get hired. She ended up here."
For Clouart this story points to a broader economic issue.
"This is a cyclical problem," said Clouart. "There are not enough jobs for the skilled workers."
In 2012 there were 2132 individuals without permanent housing in Central Oregon, according to the Homeless Leadership Coalition's annual One Day Homeless Count. This number was up from 1736 in 2008, and there has been a shift in demographics.
"People have lost their jobs," said Kenny Lapoint, the HLC co-chair. "In the last few years there have been a lot of children counted, a lot in the school system."
Lapoint understands that the issue of homelessness is something that affects everyone, and must be dealt with comprehensively.
"Homelessness is a community issue," said Lapoint, "it has to be the entire community that takes it on."
(Contact:[email protected])