Sara can't get a driver's license. She can't legally get a job. Sara lives in constant fear of being deported to a country she knows nothing about.
Sara is a former Central Oregon Community College student from Madras. In 1995, after years of oppression and poverty in Mexico, Sara immigrated to America with her family.
"America was built upon immigrants, with few dollars in their pockets who simply worked hard for everything they had…we wanted to be a part of this, but it is a long, hard road to citizenship," said Sara.
Sara previously attended COCC but now has to work full time to support her parents, who can no longer work due to lack of legal residency documentation.
Molly Svendsen
The Broadside
Sara's situation is one that many undocumented immigrant students at COCC and many colleges in the United States faced until the Deferred Action for Childhood Arrivals Act was passed on June 15, 2012.
DACA gives undocumented students who meet certain requirements the option of applying for a deferred action grant.
This grant opens up the American essentials, said Evelia Sandoval, Latino Program Coordinator at COCC.
"What this does is give a two year work permit," said Sandoval. "This gives recipients the staples of America by allowing recipients to work in the US, go to school in the US, and most importantly, just not live in fear of being deported."
In addition to a work permit, applicants will also receive a Social Security card which will allow them to then apply for a drivers license.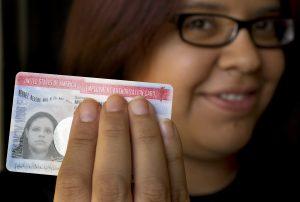 "In Oregon, if you are undocumented you can't apply for a driver's license," said Sandoval. "So the recipients of this act will be eligible for a driver's license here in the state of Oregon, the state still hasn't worked out all the logistics of this part yet, but recipients should soon be able to obtain their licenses."
Since this act was passed, Sandoval has helped mediate the application process for many undocumented students at COCC and believes that this grant will give the recipients more independence and a chance to achieve their goals.
"A lot of undocumented students attend COCC and sometimes can't finish out their classes because they can't afford to," said Sandoval. "Now these students will be able to have jobs and drivers licenses so it will give them a greater independence."
Greg Delgado, Latino Community Organizer for Causa, Oregon's latino immigration rights coalition, has worked closely with Sara and students like her to help them navigate the legal process that is required for the deferred action grant.
"DACA was created because Congress was finally forced to do something about this very large issue," said Delgado. "We have millions of kids who are affected by deportation. These kids were brought here by no choice of their own…we are going to be fighting diligently, these are our children in our community, there is a hope for these kids."
Delgado emphasized that while this act is not a path to citizenship, it is a step in the right direction for immigration rights.
"We raised these kids as Americans and then we're just going to throw them out of our own country just because of the status," said Delgado. "So how do we be a little more respectful of this issue?"
The creation of DACA gives hope to the community by showing that even those who don't have many of the rights that legal citizens have that they still have rights as human beings, said Delgado.
"We have state and federal laws we obey but we also have a higher law called human rights," said Delgado. "And we have to understand that respecting human rights is a big issue here and DACA is a great step forward for our youth to give them hope and allow them the opportunity to continue education."
For Sara, receiving this grant would give her a sense of security in the country she has lived in for most of her life.
"It scares me to think that I could be thrown out of a place where I have lived forever," said Sara. "I don't know anything about the country I came from and have lived and grown up right here in America."
Sara also believes that this grant will help her and others in her situation live out the American dream.
"The American dream is what we came for…not necessarily pulling in all the money and being rich," said Sara. "[It's] being free to become whoever you want to be and work hard so you can achieve."
If chosen to receive this grant, Sara hopes to return to COCC and is interested in getting a degree in social work, a degree that she feels would help her to give back to those in the community as well as help others like her. She wants students who are in her situation to know that they are not alone even though it may be a long road.
"Don't give up. It may be very difficult or frustrating at times when you want to do all these things like go to college," said Sara. "Students in my situation should get involved with community and involved in this cause and to just keep a positive attitude because our time will come."
(Contact: [email protected])
Eligibility requirements for DACA applicants:
Under the age of 31 on June 15, 2012
Under age 16 upon arrival into the United States
Have had continuous presence in the United States for at least five years