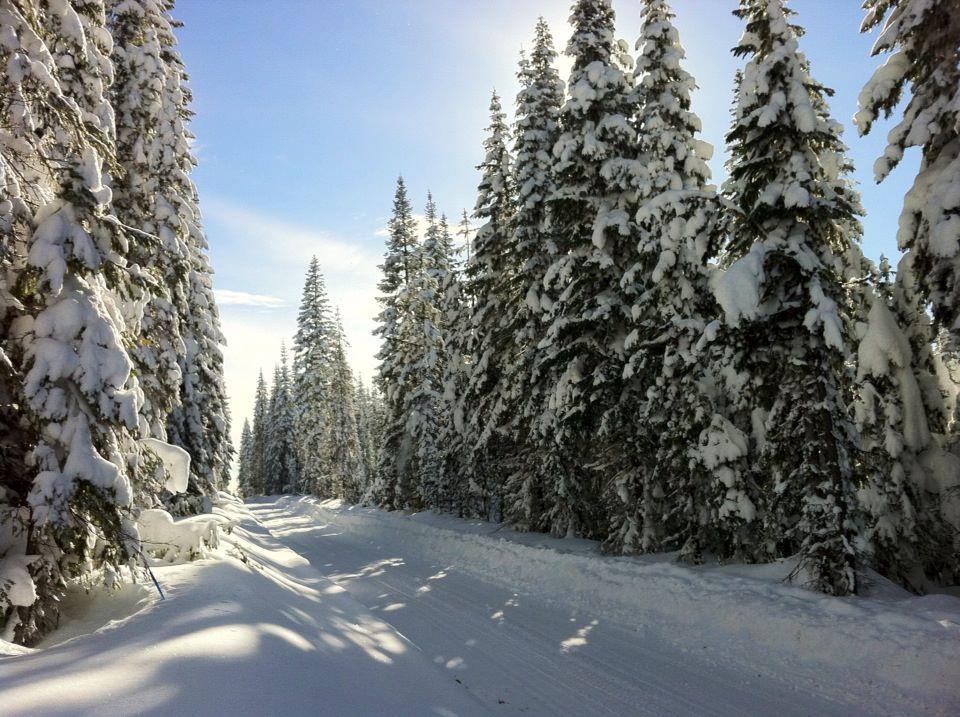 Central Oregon Community College students and staff need to begin preparing for the treacherous winter months at each of the campuses, according to Joe Viola from Campus Safety and Security.
Viola isn't wasting time with the college's preparations.
"Plows are tuned up, repaired, and tested. Trucks get studded tires. Cinder trucks are tuned up and tested," explains Viola. "Ice melt pellets and pumice containers are placed strategically around campus."
Along with the plows and cinder trucks, Viola also says different procedures, such as the college closure procedures and emergency snow removal procedures, have promptly been updated.
Tabitha Johnson
The Broadside
When walking around campus, students should slow down and use any handrails for assistance. Be careful when crossing the road and try to avoid any distractions, like using your phone, Viola said.
"Remember, it is more difficult for any vehicle to stop on icy [or] snowy roads; use some discretion," warns Viola.
To prepare the campus for the winter months, many departments come together to shovel the walkways, lay down ice melt pellets, lay cinder, and plow snow.
"This is a combined effort through Campus Services, the Grounds Department, Maintenance Department, Custodial  Department, and Public Safety.
Not only should students walk safely, but drive safely, according to Lieutenant Kevin Dizney. Snow can be plowed, but ice can set in at low temperatures easily. Even driving a four-wheel drive vehicle with studded tires can be risky.
Dizney is a Watch Commander of a sheriff's patrol team and teaches an Emergency Vehicles Operations Course for other officers and the police academy. Dizney teaches defensive driving, emergency response driving, and winter driving.
"The first rule to winter driving is understanding the environment you're driving in," explained Dizney, "Is it wet? Is it dry? Is it icy? But, without a doubt, always slow down."
One way to identify the road conditions is to look at the vehicle in front of you, according to Dizney. If the car ahead has a large rooster tail of water, the road is obviously wet.
If the vehicle driving ahead of you has a smaller rooster tail and it's below 32 degrees, there's a high chance the road is icy, according to Dizney. He added to be careful of the ruts on Highway 97 when it's wet: the ruts will throw off a car's steering.
Students should take caution when driving up College Way.
"Unless you have four-wheel drive or front wheel drive with studs on the front or all four tires, you shouldn't even attempt it," explains Dizney. "Rear-wheel drive is the worst because the rear wheels push the car up the hill instead of pulling it with front wheels."
Students may want to leave their sports cars at home during the winter months, Dizney joked.
Safety Tips
Dress for the weather
Give yourself enough time to get to school
Prepare your vehicle: ensure your battery, defroster, windshield wipers and tires are in top condition. Carry chains or have snow tires.
Be mindful where you park: use common sense when deciding where to park. Your car can still slide in park.
Drive safe: No destination should be worth your life. It's better to be late than dead.
Position your tires when parking on the road: When parking uphill, face tires towards traffic.
When parking downhill, face tires towards the curb. If the car starts to slide downhill, the tires will hit the curb and hopefully stop the car's momentum.
Do not block roadways: snow plows and cinder trucks are heavy duty vehicles that have an important job to do and should not be hindered by cars parked illegally on the road.
(Contact: [email protected])