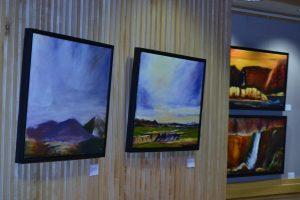 Landscapes from the High Desert, the Gorge, and the Valley are on display in the library Rotunda gallery. Dorene Steggell, from Eugene, picked pieces that are especially meaningful to her and some, she thought, would relate to Central Oregon.
"Even if I doodle, I doodle landscapes," said Steggell.
Steggell has been a professional, full-time artist for four years. She previously worked as an architect and an artist on the side. She is now devoted to her art and has displayed about two and a half years of her work in the library at Central Oregon Community College.
"I like showing my art in venues where it can be seen by a broad range of people, and community colleges are a good place to do that," said Steggell.
She mainly creates monotypes, which are done with ink, and oil paintings. Steggell has a mixture of both displayed in the gallery. They can not be repeated because of the single-print process of monotyping.
"It's nice that the students can come see the art work while they are studying" said Ruth Hoffman, a first year student at COCC.
Steggell's distinctive artwork provides a rare opportunity for students, staff and faculty to view a show from one artist that fills up the Library Rotunda.