Kelly Huskey and Shara Huskey, who are currently in a relationship, are both members of the Associated Students of Central Oregon Community College. As co-members of the council, they and the other four members share the responsibility of distributing student fees.
There is no rule against students who are in a relationship serving on the council together in the ASCOCC's constitution, which is currently the only set of rules governing the council. The ASCOCC's rules on family relationships are the same as Central Oregon Community College's, which state that potential employees will not be discriminated against because of their relation to existing employees, but no employee can be in a supervisory position over their relative (including domestic partners). Because the ASCOCC positions are all equal, the relationship between Kelly Huskey, the director of student organizations, and Shara Huskey, the director of public relations, is not in violation of this rule.
"It's really not unusual to have council members in a relationship," said Taran Underdal, the advisor of ASCOCC. Though this is the first time since she has been the advisor that a couple has served on council together, Underdal said she does not believe it to be a rare occurrence on student governments as a whole.
Shara Huskey decided to apply for ASCOCC after seeing the work of the 2011-12 council, according to Kelly Huskey. She wanted to be a part of helping students.
"I'm glad she saw the work I was doing last year and wanted to join," said Kelly Huskey. Though they work on the same council, Kelly Huskey and Shara Huskey try to avoid letting their roles mix too much.
Kelly Huskey and Shara Huskey intentionally structured their positions so there would be little overlap in their work, according to Underdal. She said she has not seen any bias in the council members so far this year.
The election and hiring process
There are three elected positions and three hired positions on ASCOCC. After the three elected members are chosen by the student body, they hire for the other three positions. In spring 2012, Kelly Huskey was elected onto the council and Shara Huskey was hired. There were six completed applications turned in for the hired positions, according to Underdal.
Each applicant was interviewed by a hiring board which included the elected council and two employees of the college. A vote was held to decide which three should be hired. Kelly Huskey was part of the interview process for all applicants, including Shara Huskey. After Shara Huskey was chosen as one of the top candidates, Kelly Huskey abstained from voting on whether or not to hire her, according to Kelly Huskey.
Before deciding to hire Shara Huskey, both she and Kelly Huskey were asked about their ability to work together professionally, according to Underdal.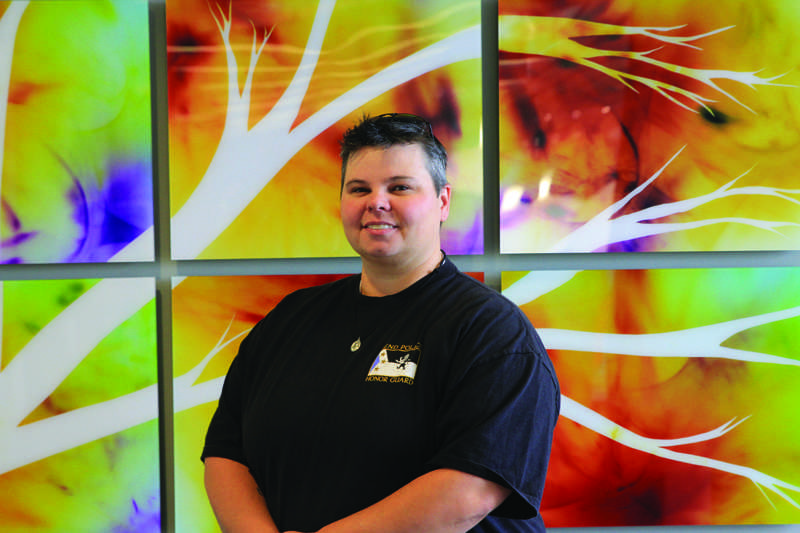 "We had discussions about it… so I would say precautions were taken from the interview process all the way until she was hired about how to be ethical," said Underdal.
Conflicts of interest
If the ASCOCC council needed to vote on an issue that directly related to Kelly Huskey or Shara Huskey, the other would need to abstain from voting, according to Underdal.
"If a situation like that were to come up, the council and I would work together to make sure there was no undue bias," said Underdal.
Each member of the council must abstain from voting on any issue related to a club or program they are currently in. Kelly Huskey is member of the Criminal Justice club, so she does not vote on any of the decisions made by ASCOCC regarding that club. Underdal and Kelly Huskey said they weren't sure if Shara would abstain from issues related to the Criminal Justice club as well, because such a situation hasn't yet come up. Because, as of now, there are no policies governing ASCOCC, issues are discussed and decided upon as they come up, according to Underdal.
"I think it might depend on the issue," said Underdal. "if Kelly were in charge of something [proposed by the Criminal Justice club] that would be a concern."
In order to have a quorum to make decisions, the ASCOCC must have at least four members who are able to vote. If both Kelly Huskey and Shara Huskey had to abstain from voting on an issue, the council would still have a proper quorum, as long as all other council members were present, and no other member had to abstain from the vote.
Once they leave the college for the day, the couple avoids talking about anything related to the student government, according to Kelly Huskey. She said that so far she has not encountered any ethical issues with Shara Huskey on the council. There have been other challenges such as finding childcare for their children when both Kelly Huskey and Shara Huskey are busy with the ASCOCC, but Kelly Huskey said she does not anticipate there being any serious issues in the future.
"Of course there's going to be challenges," said Kelly Huskey. "But it works."
(Contact: [email protected])
Cedar Goslin |The Broadside