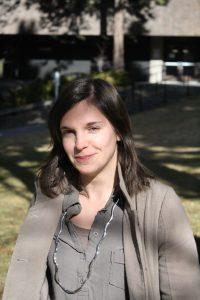 Selene Hutchison's love for history and traveling has led her to a career choice where she can give others a trip they won't forget. Hutchinson is studying to be a museum director.
Hutchison grew up in Lugano, Switzerland, where "we do not buy houses, because we like to have money on the side to go on vacation twice a year. So we live in apartments to save money. Vacation lifestyle is everything."
Hutchison has traveled to France, Germany, Italy, Thailand, and Washington, and this year will add Hawaii to her list.
She visited many museums in Switzerland and its surrounding countries. Later, however, she went to a trade school to become a nurse.
"I didn't really like it but, life was good so I wasn't even thinking of doing anything else," said Hutchison.
She worked in medical assisting for a year before moving to Oregon.Because of a delay in getting her permission to work through INS (Immigration and Naturalization Service), Hutchison started to rethink her career path.
"I applied to COCC in January of 2010, and last year I decided I wanted to be a museum director," she said.
The choice wasn't easy for Hutchison, who at first wanted to be an archaeologist so she could travel the world in search of artifacts.
"Archaeologists do travel, but sometimes they don't know if they will get paid, or if they will find something," said Hutchison. "I need something that will guarantee me pay and a good life."
Museum directing will meld two of Hutchison's passions—history and archaeology—into one.
"I love to be around artifacts… and actually know what I'm talking about. But museums are having hard times attracting people, so I think it will be a challenge to be able to keep a museum interesting."
Hutchison wants her museum to invite visitors in.
"I think sometimes museums are just boring. Something needs to be done—like a twist." said Hutchison. "Like OMSI (Oregon Museum of Science and Industry). OMSI is more fun and more interactive, while other museums, you just go through the exhibition and don't have someone explaining it to you."
Hutchison says she wants to focus especially on teens, because teenagers are "in their own world."
For Hutchison, travel and history interlace; she wants to bring people out of their own worlds and show them the world around them.
 Know someone interesting on campus? Let Scott know. Contact Scott Greenstone at [email protected]