Lauren Hamlin
The Broadside
A program on campus is encouraging students to get their hands dirty and learn more than just a few things about cars.
Central Oregon Community College's automotive technology program gives students experience and education in automotive technology service and repair, which is taught through computer applications and hands-on skills practice.
The program offers students eight varying certificates and also an Associate of Applied Science Degree in automotive management. Each certificate focuses on a specific skill or area of interest. With such a variety in certificate options, the program gets the same kind of variety in its students.
"There's no universal student that comes into our program," said Ken Mays, the director of COCC's automotive technology program. "We have students who are deaf, students who have no legs, students who already have two or four year degrees and not just men, but also women. Everyone is welcome."
Michael Webb is a student in his third term at COCC. He is seeking the Master Automotive Technician certificate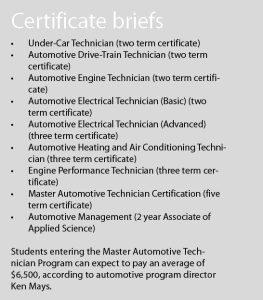 , and also works at an automotive shop in Prineville.
"I'm here to get the knowledge needed to pass the Automotive Service Excellence test, which will get me a job in a dealership or an independent shop," said Webb.
Some students enroll in the program long term, while others enroll for the education the certificate briefs offer.
"Most students who get the small term certificates continue on," said Mays. "They like the training"
As with any program though, there are students who are not in it specifically for the degree.
"Sometimes when a person comes here, it's because of a road block," said Mays. "They're just doing this until they can bring up their seniority as a student."
No matter the reason for enrolling in the program, there can be significant and beneficial outcomes upon earning a certificate in automotive technology.
"We've placed a lot of students in dealerships, diesel mechanics, and private shops," said Mays. "Because of the mechanical, electrical, and hydraulic skills, which are universal, students can enter a wide variety of jobs, not just automotive."
For more information on COCC's automotive technology program, contact Mays at 541-383-7753 or visit www.automotive.cocc.edu.
(Contact: [email protected])