On Sept. 19, Central Oregon Community College hosted the grand opening which featured celebratory comments from faculty and board members, tours of the new facilities, and plenty of refreshments for all attendees.
During the event, COCC's President Dr. James Middleton spoke at both the Science Center and the Health Careers Center. He explained the benefits that the new buildings offer COCC.
"These buildings, combined with the Culinary Center, Campus Center, and Library help to define a high quality of progress and quality that help the institution," said Middleton. "Because of this building, we've been able to do one of the most important things, and that is hiring two new faculty members…second aspect that is important of this building is the [versitility]."
With the new buildings come new classroom designs. The classrooms are customizable to fit the needs of students and professors; the desks, chairs and lab equipment are mobile. This will allow student focused learning, according to Middleton.
"The technology is very pervasive throughout the buildings," said Middleton. "Our facilities are great, and the real focus is the faculty and the students."
Michelle Decker,the director of the nursing program, spoke more on the new classroom designs. She showed guests around the new facility, which she played a part in designing.
"The faculty designed this lab," said Decker. "We sat down with blue print paper and rulers and drew out the space. The architects took all our ideas and put them in here."
Decker gave several attendants a tour of the new Nursing program facility, located on the third floor of the new Health Careers Center.
Another focus during the construction of the new buildings was striving for a "green" certification, which COCC was successful in earning.
Diana Fischetti, the Green Building Consultant for Earth Advantage Institute presented Middleton with a plaque recognizing COCC as Earth Advantage Commercial Gold Certified. This certification recognizes buildings which meet high standards of sustainability and energy efficiency. Five main components are considered, which include energy, water, health, materials, and land.
"COCC really understands the importance of these things, so I really applaud [COCC] for that," said Fischetti.
With these accomplishments, there were many thanks to be made.
"There are literally thousands of people to thank," said Middleton.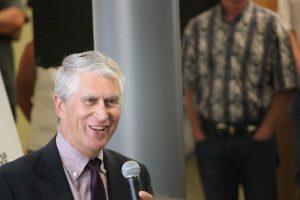 Among the list of those thanked, Middleton gave mention to the district voters, Kirby Nagelhout Construction, Charlie Miller, who served as the campaign director, the 2007 Oregon Legislature which put 5.7 million dollars into the buildings, architects and general contractors.
He also thanked the many students, faculty and staff who volunteered many hours campaigning and those who "put up with all the construction and struggles of finding parking."
To conclude he added, "Thank you so much and we appreciate the opportunity to share this excitement with you."
The new buildings are now open and housing their first round of classes.
Story by Lauren Hamlin | The Broadside  [email protected]