Cedar Goslin
The Broadsude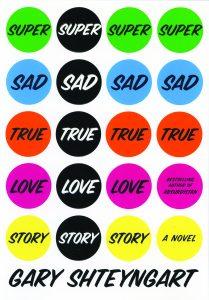 "Super Sad True Love Story" is the book that every American needs to read. Not only to delight in the graceful, sarcastic wit of writer Gary Shteyngart, but also to absorb the warning embedded in this satirical novel about love, politics, and the battle against mortality.
The book takes place in the United States, after it has crumbled under the weight of its debt and servitude to consumerism. Books have gone extinct, literacy is frowned upon and every person is in possession of an äppärät which is a futuristic smart phone/iPad hybrid that also serves as each individual's ID, link to the world and tracking collar. Through these devices every detail of a person's past and present is available to all those around them, as well as to the credit poles, which are stationed throughout cities to ready to scan a person's credit and announce their value to the world. In its effort to rebuild, America has taken a totalitarian turn; "Together we'll surprise the world!" declare billboards informing citizens of new restrictions.
The main character Lenny— think: excessive sweating and tearful emotional outbursts—is both easily pitied and despised. Between his inability to look like a teenager, his affection for books and lack of aptitude for technology, Lenny doesn't fit in well with his media-obsessed society. He's employed by a company that is working to insure immortality for its "High Net Worth Individual" clients. Lenny hopes to make enough yuan-enforced money to buy eternal life.
While visiting Italy, he meets Eunice, a young, consumerism- and technology-focused Asian girl. Shortly after they meet, Lenny decides that he is going to marry Eunice and spend the rest of his never-ending life with her. He manages to get her to come to his troubled country and move in with him. Despite their differences and the fact that Eunice stores her soul in her äppärät, Lenny continues his efforts to win her heart because she embodies everything that is unattainable to him: youth, beauty and belonging.
The story is told through Lenny's diary entries and a series of e-mails written by Eunice. With this unique style, Shteyngart portrays the dramatic differences between the two characters and reaps the benefit of having two first-person narrators without creating confusion.
Though some readers may be turned off by the sometimes lude language used by the characters, it's important to acknowledge it as character development tool and not needless smut.
What George Orwell does with "1984," Shteyngart does with "Super Sad True Love Story," but with a brand of wit that has no comparison.
Without a doubt, Shteyngart has produced the most relevant dystopian novel of our time.
(Contact:  [email protected])