Volunteers to help students with tax work free of charge
William James
The Broadside
Tax season can be a stressful time. In response to this, the Partnership to End Poverty, a 501 non-profit organization, is offering free tax preparation clinics from Feb. 1 to April 15 across Central Oregon.
Clinics will be held at Central Oregon Community College's Barber Library, in the computer lab, starting Sunday, Feb. 5, from 12 to 6 p.m.
During these clinics, certified volunteers will help anyone who needs assistance to electronically file their federal and state tax returns at no charge by employing Taxwise, a tax software approved by the Internal Revenue Service for volunteer use.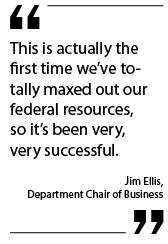 "It's a way of saving money that should be yours," said Sarah Holtzclaw, deputy director of Partnership to End Poverty.
In the course of these events, the Partnership will unravel the complicated legal language of a person's tax returns and help them identify where they can save more money.
"During these clinics, we'll try to maximize any refund or tax credit that people are eligible for," said Holtzclaw.
By using Taxwise, any person attending these clinics that has a bank account can receive their returns within five to seven business days by having them directly deposited into their account.
"If students do not have a bank account currently, I encourage them to open one," said Holtzclaw.
The average cost of filing state and federal taxes with large financial institutions costs $250, according to Holtzclaw.
"Doing it for free with us is saving $250 right out of the gate," said Holtzclaw. "There are also programs like TurboTax that allow you to file your state taxes for free, but federal taxes still come with a fee."
Students may also see a few familiar faces among the volunteers. Twenty COCC students currently taking the BA 199 Tax Law class taught by Holtzclaw will be helping with the event to earn credit as part of the class.
"I see this as an opportunity for students to learn more about tax law and partner with our community. Anytime you get a chance to give back to the community, it's a wonderful thing," said Jim Ellis, department chair of the Business and Aviation department. "This is actually the first time we've totally maxed out our federal resources, so it's been very, very successful."
If students are unable to make the dates on Sundays, Partnership to End Poverty will also be holding tax preparation clinics at the Bend Public Library on Wednesdays and Saturdays until the end of tax season.
(Contact: [email protected])