Going to college is not cheap, and neither is living in Bend. With the cost of living 31% higher than the national average, finding a way to pay for anything other than the basics can be hard. With grocery, gas and housing costs all sky high, finding the funds to pay for recreation, mental-health or self-care can seem impossible.
Especially for community college students who often face additional pressures like taking care of family members, raising children, and working additional hours to keep up with those expenses.
Fortunately, Central Oregon Community College has quite a few services available that can help alleviate some of those pressures and make the impossible, well, possible.
From food and clothing to counseling and news subscriptions, this list contains free or low-cost alternatives COCC students can access that can help provide the quality of life that a college student deserves.
1. The Clothing Connection
The Bend location is open 11 a.m. – 2 p.m. Wednesdays and Fridays with a wide array of clothing items and accessories available for students to sort through.
Have an upcoming job interview? Need something for an event? Or maybe you just want to freshen up your wardrobe?
Located in the Ochoco building of the Bend campus, with a smaller selection in the RTEC building of the Redmond location, The Clothing Connection is a volunteer-run second-hand store filled with a wide array of clothing and accessory items for students to sift through no matter the occasion.
Since opening in 2021 the store has been flooded with donations from the public that have given students some relief in the matter of retail spending. With new and used clothing items available, current students are allowed 10 free pieces a term with low-cost options after that. In addition, a new children's section has just opened helping provide free clothing to students with infants and children at home. Something that can be game changing for a young parent's finances.
2. ASCOCC Food Bank
Just some of the food items on display for students to grab as needed.
There are many reasons a person may experience food insecurity but at COCC, student government is helping relieve some of that worry. Located on every COCC campus, open Monday through Friday from 8 a.m. to 5 p.m., the Food Bank offers free food and hygiene products to COCC students. This is done through funding with Neighborhood Impact and donations from the public.
"We had someone a couple days ago who brought in a ridiculous amount of food. It was so great to see that somebody was willing to donate bags and bags of food," said Community Assistant and Wickiup Liaison Reagan Schleich.
With items usually purchased from Trader Joe's, Costco or Target, students can choose from a selection of foods; fresh, frozen, and non-perishable. Just stop by your campus' location and grab what looks good. It's there for anyone in need.
3. Free News Subscriptions
Stay up to date with Washington Post, New York Times, and New York Times Cooking subscriptions.
Have you ever had a paper to write and found what seemed like a great news article to source from, only for it to be hidden behind a paywall? It's something many students have or will face but the COCC librarians are helping to eliminate that the best they can.
In addition to free research assistance in the library, current students also have free access to The New York Times, The Washington Post, and New York Times Cooking. These are great resources for use in your academics or for personal fulfillment, that would otherwise cost quite a lot.
Currently a NYT subscription is $17 every 4 weeks, NYT Cooking is $40 a year and the Washington Post is $12 for a basic plan each month, $17 for premium. Stretched over the year, that's roughly $32.33 each month, on the low end.
Now students can explore current affairs, stay up to date on sports and entertainment or learn how to cook for themselves without having to worry about the big monthly price tag.
4. Dental Care for Low-Income Students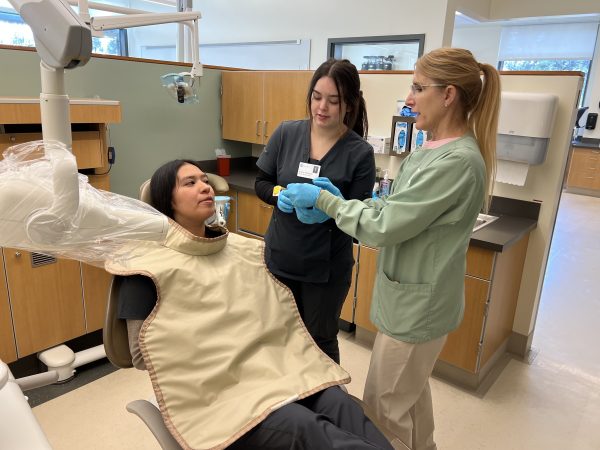 Professor Lynn Murray (right) teaching students Xochilt Ochoa (left) and Britney Velasquez (center) in COCCs Dental Program
Technically this is for anyone, but a service is a service. Available two Fridays a month, October to June, "the Dental Clinic at COCC is here to help any adult patient who is low income and in need [of] dental services;" said Dental Assisting Program Director for the college, Professor Lynn Murray, in an email discussing the option.
"It is for "those without insurance, students, elderly, veterans, and OHP patients who have a painful tooth but have been unable to get in to see their dentist," Murray wrote.
While there is a first-come first-served waitlist to get on, the only charge to the patient is a $20 supply fee due at the time of appointment.
"On average a patient receives $650 of dental services for that $20," said Murray. The goal of the Dental Clinic is to provide dental care for those in need. If a student is experiencing tooth pain or discomfort it makes it difficult for them to focus and be successful with their academic endeavors."
Don't let your teeth problems get in the way of your studies…
If you or anyone you know needs dental assistance you can call Deschutes County Health Services at 541-322-7400 to be placed on the list.
5. Personal Counseling
Counseling services available in CAP Services.
As it has been noted, being in college can be a very stressful experience and in 2023 we know now more than ever the importance of good mental-health practices. Whether scholastically related or due to personal circumstance, balancing school and the pressures of life can be difficult to manage, and left unchecked can cause students to fall behind, drop out entirely, or worse.
"I think it's all about holistic support," said Andrew Davis, Director of Student and Campus Life.
"We know that just because a person is here to go to class, it doesn't mean that they are one dimensional or that, all and all, those things go away. Financial insecurities, no matter what it is caused by, can be a thing that prohibits students from completing courses, degrees, and so I think it's really important just because we want to support the entire individual, not just academics alone. We know that these other things contribute to academic success and so what services we are able to provide help check just one potential stressor off the list for a student," Davis concluded.
Located in CAP Services and in partnership with St. Charles Behavioral Health, by being enrolled in just one credit, COCC students can schedule an appointment with a licensed professional counselor for free one-on-one sessions lasting around an hour. For comparison, a 50-minute session at Thrive Mental Health, a therapy clinic in Bend that COCC is in partnership with to provide services to students, can run you $165 out of pocket.
If you are interested in speaking with a professional, please call 541-383-7200 to schedule an appointment.
NOTE: This article has been corrected. An earlier version misstated who is eligible to obtain food from COCC's food bank. The Broadside regrets the error.