A classic dish on the table for Chinese New Year are dumplings, or Jiaozi (饺子) in Mandarin. Making homemade dumplings may seem intimidating or work intensive, especially since there are many conveniently packaged and frozen options at the grocery store. However, I encourage you to try making them yourself. There is something special about making dumplings by hand, and each person leaves their unique touch on them; whether that's in how you fold it, or what filling you choose.
Prep time: 50 minutes
Cook time: 15 minutes
Makes: about 30 dumplings
– ½ pound ground pork or chicken
– 1 tablespoon soy sauce
– 1 tablespoon Chinese rice wine (Shaoxing) or dry sherry
– Pinch of salt and pepper
– 1 ½ tablespoons sesame oil
– ½ minced scallion
– 1 clove of minced garlic
– ½ tablespoon minced ginger
– 1 pack of round dumpling wrappers (note: do not use wonton wrappers, which are square)
– 2 eggs
– 1 cup of cold water
– 4 tablespoon soy sauce
– 2 tablespoons chili garlic oil or regular chili oil
– 2 tablespoons rice vinegar
– 1 tablespoon sesame oil
– 1 minced green onion
Once ingredients are gathered, here are the steps for cooking:
Step 1: Combine pork, salt/pepper, ginger, garlic and liquid ingredients together. Stir until thoroughly mixed.
Step 2: Add scallion and egg, and stir once again until evenly mixed.
Step 3: Fill each wrapper with about 1 tablespoon of the filling and fold accordingly: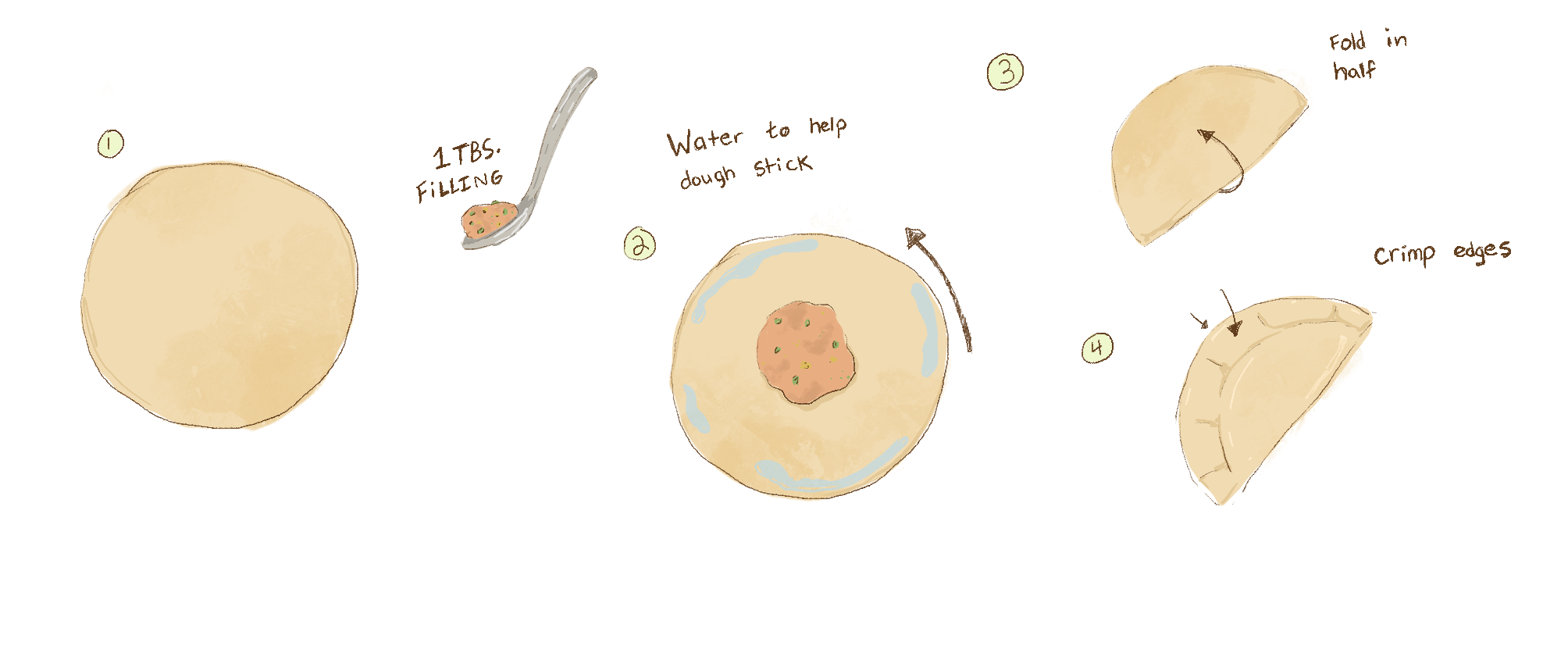 Step 4: Bring a large pot of water to a boil and add about half of the dumplings, depending on the size of your pot. You want to make sure they have enough room to travel around the pot as they boil. Gently stir the dumplings. Wait about 2-4 minutes for the dumplings to float, and add a half cup of cold water and cover. Wait for the water to return to a boil, then add the other half cup of cold water. Once the water begins to boil again, your dumplings should be done, but make sure to cut one open to check.
Step 5: Serve your dumplings on a large plate, sprinkled with sesame seeds and scallion. Add the optional dipping sauce on the side and enjoy.