Hidden behind the scenic city of Bend, Oregon lays an underworld of a forgotten homeless community, to which a late 40-year-old woman by the name of Brenda belongs to. She graciously gave us the emic perspective of the homeless community most ignore.
It's no Vegas strip nor the California 101, though downtown Third st. in Bend carries its weight in traffic and scenic views. Locals, tourists, and those who are passing through, will find all roads leading through 3rd street in Bend. The allure of shopping centers, restaurants and dispensaries contribute to a plethora of traffic. As motorists zoom through, they experience the awe of the canvas scene of snow-capped mountains surrounding an enchanted green luscious forest. Third St. is the vein inside the heart of Bend; the city that thrives inside a national park.
However, with all the onlooking traffic coming through, sights are rarely set to the dark alleys hidden beneath the mountainous view.Within these shadowy depths lies the homeless underworld that many pass by without first or second thought. This underworld riddled with despair, inequality and poverty is best ignored by many to avoid shattering the illusion of prosperity.
Though I gambled the dream on the quest for truth by interviewing Brenda, who lives in this underworld of the Bend homeless. As the sun began to set and cast the evening shadows, I found Brenda sitting behind the back alley of a restaurant. She was not alone, accompanying her was a half German shepherd, half Collie pup. Anxiously watching my arrival, Brenda scanned every step I took as her dog protectively barked.
Once reassured that I was not a police officer or a threat, both Brenda and her dog accepted my presence, and I was allowed to have insight into this underworld. Brenda is in her late 40's, and a homeless single white female, with brown and peppered grey hair. Her face had darkened from a rough life and mistrust of society. Skinny in stature, not more than 5'3 in height, it was easy to see why she was so cautious of her surroundings.
"I'm originally from Eugene and grew up bouncing from foster home to foster home until I was sent to an all-girls boarding school in Bend," said Brenda. Brenda said how growing up in a broken home with an abusive father and a drug-addicted mother led to her life always on the go. Her mother eventually left, and her father was reported for child abuse. This left Brenda to be fostered by the system and the abuse continued throughout the foster care. Becoming of age, Brenda decided to put her faith into the streets, and ran away from a boarding school at the age of 17. "I worked and travelled but always got caught up in shit, so I kept coming back to Bend because at least it is familiar, "said Brenda.
Referring to contractors, and business owners who dump trash out near homeless locations, Brenda referred to these people as "Plants," because they sprout up from nowhere. "People don't realize we are a community too here in Bend, we look out for each other and even clean up all the shit the "PLANTS!" leave out." Also, she said one of the most dangerous things is dealing with drug dealers, pimps, and police officers. She said how she constantly found needles, being pursued for prostitution, and ran out from camping areas by officers.
"The only advantage of being Homeless in Bend; It's basically poverty with a view," said Brenda. Brenda said how at least compared to places like Portland and Eugene, being homeless in Bend at least had a scenic view. Also, she said that the homeless community is more cohesive than other places. She relies more on the friendships within this population than the charity organizations provided. Though, the food services and shower truck that comes three days a week are much appreciated.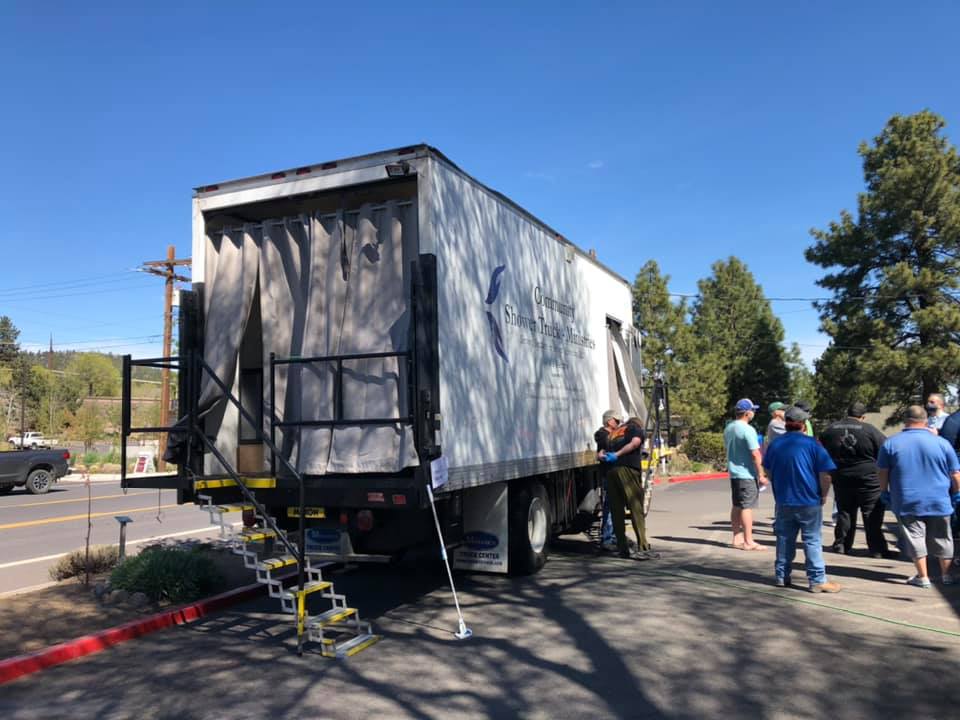 "The Rubber-Room is hard to get to sometimes." The "Rubber- Room," is the name Brenda and her comrades call the shower truck that comes only on Monday, Wednesday, and Fridays. They call it the Rubber-Room because of the rubber insulation padding within the shower walls. She said that sometimes the locations and time are not always clearly articulated to her community.
Photo by Community Shower Truck Facebook
To add to the chaos, the Rubber-Room only has a Three-hour window to be used for the day. "I just wish we had a designated campsite free of harassment and more days to have Rubber-Room access," said Brenda.
These were things she said the homeless in Bend could use more of. "Overall, I've learned the hard way to stay away from the traps of certain people." Brenda was referring to how the drug abusers usually get you caught up in things beyond the scope of just drugs especially for homeless women.
Though her future is still wounded from a murky past, Brenda does hope to acquire her own stable housing one day. She is currently working with Neighborhood Impact in Bend. However, until she gets to her dream, she said she is just going to settle with her view from the streets.