Something like a law that makes abortion illegal might seem clear in how it could affect someone's health, but there are other things one might not consider an "act of society" that affect a person's wellbeing. Owen Murphy, professor of health psychology and Intro to Sustainability courses at Central Oregon Community College, talked to The Broadside explaining social determinants of health and how the structure of a society may impact a person's health more than originally suspected.
The Social Ecological Model of Public Health
According to Murphy, his favorite thing to refer to when explaining the social determinants of health is something called the social ecological model. This is a diagram that portrays four circles, encasing one another, that represent the four levels of health-determining factors.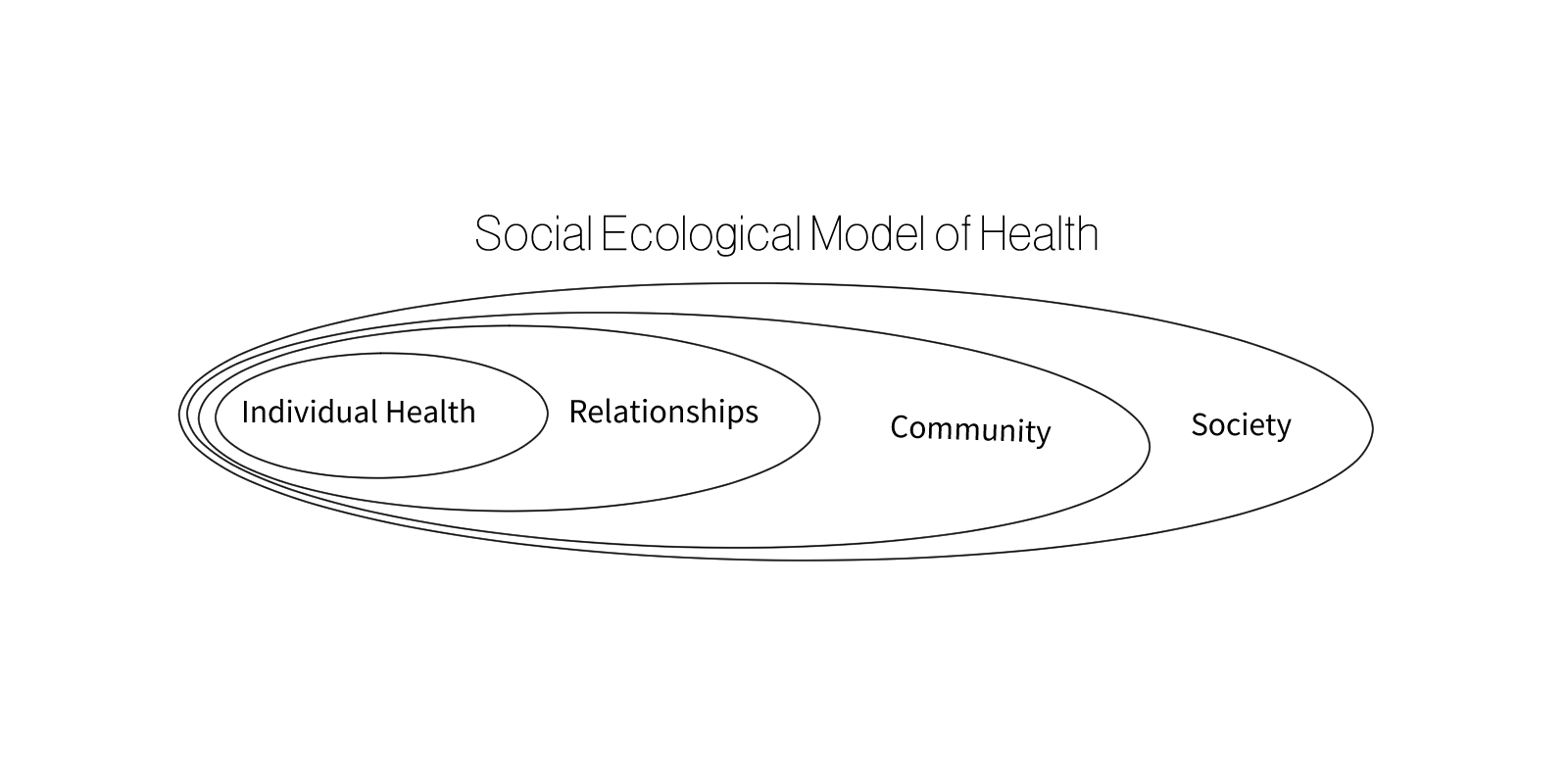 Individual
The smallest circle in the center is the individual self. This circle represents factors in life that are responsibilities of the individual.

1st- Examples of individual responsibility: 
Diet
Activity level
Income
Education
Stress management
Self-efficacy 
Relationships
The second circle that encompasses individual self represents the relationships of an individual. In other words, the people and relationships who surround an individual and the impact they have on that person's "responsibilities".

2nd- Examples of relationships that influence individual health:
Parents
Peers
Coworkers
Childcare providers
Teachers
Etc.

"Each one of these people, some more significantly than others, have an influence on [an individual's] diet, have an influence on knowledge, have an influence on how [the individual will] hold themselves or where they see themselves going," Murphy said.
Community
The third circle is the community circle, which encompasses the previous two, representing the influence of the community, or "infrastructure" as Murphy said he liked to call it, on an individual's relationships, therefore influencing the individual. Murphy explained this circle as what an individual has access to.

3rd- Examples of community ("infrastructure") influence on individual health:
Location of the nearest grocery store
Nearest clinic
How close is their school
Nearest recreational facility

"If a person only has a corner store… available to do the bulk of their shopping, their diet is not going to be the healthiest. That's not necessarily a choice though, [especially] if they also don't have transportation [or] if the community doesn't provide public transportation, [and] if there aren't any federal or state policies that incentivize those sorts of community designs and services," Murphy said. 
Societal
The fourth, and outermost, circle which encompasses all previous circles, represents society and societal influence over an individual's health and wellbeing. Murphy explained this circle mainly with laws and policies, but also with food subsidies.  

4th- Examples of societal influence over an individual's health:
Laws/policies
Food subsidies
Marriage policies
Roe vs. Wade

"Look at Roe vs. Wade right now, and how that's going to affect a person's access [to healthcare], a person's relationships… strangers on the street, perhaps having an opinion about how they should cope with their bodies, etc.," Murphy said.

Murphy also explained that about 85% of crop subsidies go toward "commodity crops" or corn, wheat, cotton, soy and rice. He explained that since the shelf life of these crops has a tendency to be longer, the production rate being higher, and the changeability of these crops results in the crops essentially paying for themselves.  

"These crops are essentially prepaid for the customer, via that same person's tax dollars, but it doesn't look like it when they go to the supermarket. They can get a frozen cheese pizza for $2.49. They then look at the head of lettuce, and it's $1.50… Which one, calorie for calorie, are you going to go for? If money is tight, it makes these subsidies make processed foods appear very cheap," Murphy said.
COCC Determinants of Health and Suggestions for Change
When thinking about potential barriers for students at COCC, the pandemic seemed to be a natural thing to think of.
"I miss what things were like pre-pandemic. [There] was so much more activity and integration on campus. I think people got used to a level of [isolation]. So, people aren't looking for the same services in the same way that they used to, or having the same expectations… It feels like there's not the same student investment in campus-based activities," Murphy said.
Murphy also stated that he noticed that student investment was beginning to return.
Access to courses and resources appeared to be the biggest barriers for individual health at COCC. Murphy commented and said that he thinks COCC is moving in the right direction in both of those areas.
Murphy's response for suggested improvement areas revolved around the relationship area, or second circle, of the college's own little social ecological model.
"Connect with every single one of your instructors, at least twice per term," Murphy said.
Talking with instructors can not only lead to assistance with success in the course, but they might also have suggestions regarding career paths that a student might not have thought of previously.
In addition, building a personal connection with an instructor also allows for letters of recommendation later in the student's career.
"There's multiple ways forward as to how to improve community health and the institution of COCC can work by lowering those barriers… If students have questions, ask them. If students have issues or suggestions, make them," Murphy said.