COCC student David Marquez's mountain adventure quickly turned from snowmobiling to survival on Feb. 19 when he was stranded in a blizzard in Winter Park, Colorado. To survive, Marquez had to trek through thick powder, sinking with every step, for six hours.
After six hours in the blizzard, Marquez was found and airlifted to Aurora, Colorado to get treated. When he was found, his body temperature was 79 degrees and he had frostbite on both hands, one foot and his abdomen, among other places. He had to have three fingers on his right hand amputated. 
Marquez was snowmobiling with his friends when he took a wrong turn and caught some unexpected air. He could not get his snowmobile out of the snow, and his friends hadn't noticed that he was separated from them. He had no cell reception.
After staying with his snowmobile for a little while, Marquez saw people on the horizon. He waved frantically, but they didn't see him. It was then that Marquez decided that he would never be found if he stayed where he was. So, he began to wander forward.
With every step, Marquez sunk deeper into the snow. He blacked out multiple times, and woke up having moved a few steps forward. That went on for six hours before he was found by the search party his friends sent out.
He blacked out one more time. When he woke up, he was in the University of Colorado Hospital in Aurora.
Marquez said that the nurse kept telling him, "It's okay; you're gonna be okay." He had to receive treatment for hypothermia and frostbite. Marquez was in the University of Colorado Hospital until Feb. 26 before coming back to Bend.
Marquez's amputation did not occur until March 16 at The Center in Bend.
"I was really close to being dead," said Marquez. He got to the point where he could have given up and died, but he forced himself to keep going.
Marquez's determination to survive existed because of his 6 year-old daughter, Amelia. "I didn't want to leave my daughter… That's not fair to her, so I had to keep going," Marquez said.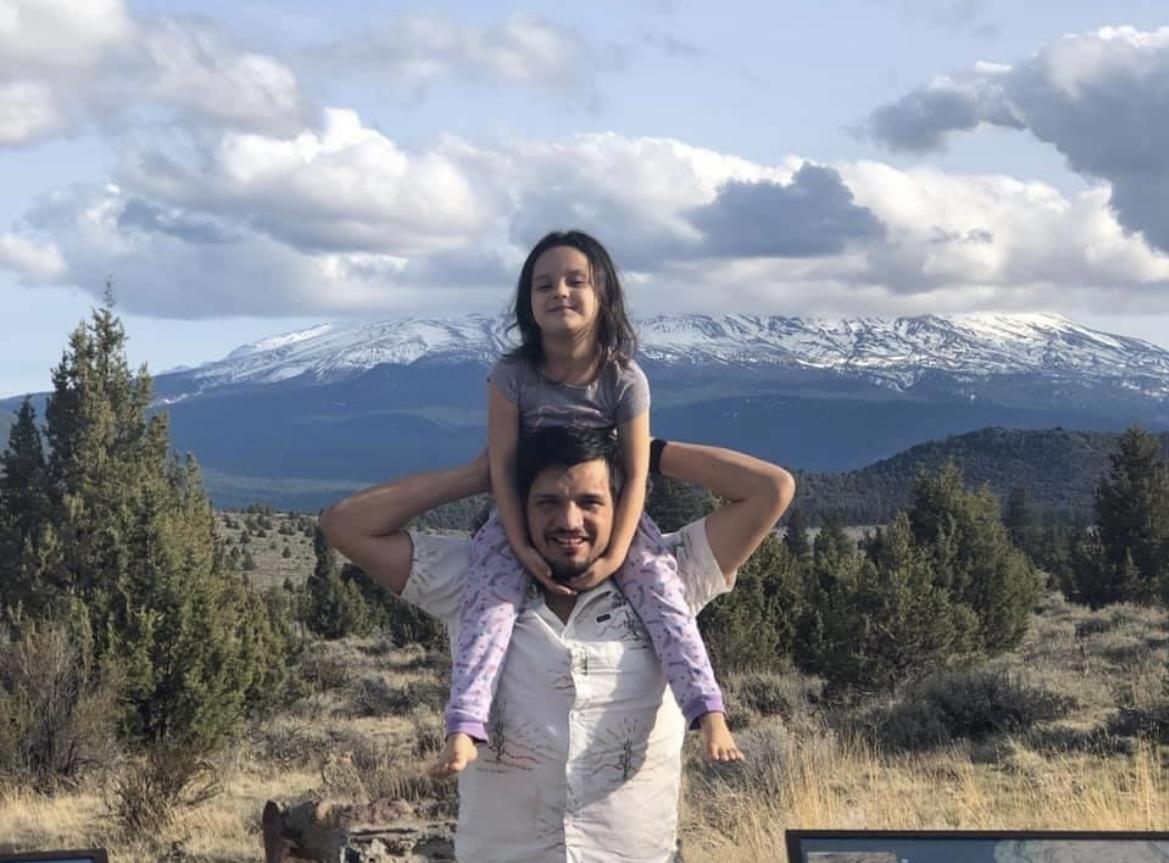 Amelia's only reference of someone being in the hospital was her mother, who passed away shortly after being admitted to the hospital some years prior. When Marquez told Amelia what had happened, he worried that she would think he was going to pass away too. So, he had to carefully explain that he was going to be okay.
After returning home, Marquez had to relearn how to do simple daily tasks like tying his shoes, buttoning his shirt and putting Amelia's hair in a ponytail. He said that he is doing as much as he can to keep life normal for Amelia.
Marquez still can't fully close his right hand. He has five to six doctor's appointments to attend each week. Despite this, he is continuing his classes at COCC as an exercise science major.
"He is and always has been a fighter. He's had a lot of rough patches in his life and yet somehow he still always pulls through and he always strives to be a better version of himself no matter the odds," said Monica, Marquez's sister.
Soon after learning about her brother's accident, Monica started a GoFundMe to help with Marquez's medical and living expenses while he heals. Here is the link.