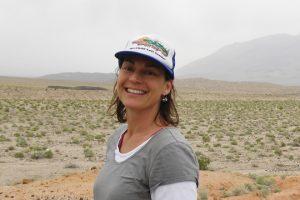 by Scott Greenstone
This Mother's Day, many moms won't receive a day to relax. Jennifer Bardwell, a student in the Counseling program at Oregon State University, wants them to know they're not alone.
Bardwell is a mom. She has four kids, works full-time, raises awareness for women with postpartum depression, and is studying for her master's degree at Oregon State University- Cascades.
"I'm extremely good at time management and I have lots of energy," Bardwell said. "I make my kid's lunches every day and every night I make a big, healthy dinner for everybody."
Bardwell often makes her own clothes and clothes for her family instead of buying a lot of name-brands. This saves the family money for what they really enjoy, such as snowboarding and traveling.
"I'm extremely resourceful," Bardwell said, and adds that her kids are very understanding. "We're all sacrificing right now."
Bardwell still finds time for the things she's passionate about. She works with Saving Grace, a non-profit organization that aids victims of domestic violence and sexual assault.
"I facilitate a financial empowerment course–an important thing for women," Bardwell said. "Strengthening the ways that we're vulnerable makes us less available to predators. I'm a big proponent of education."
Bardwell believes that the public needs to be educated on supporting moms in the community.
Before she worked with Saving Grace, Bardwell wanted to be a midwife. However, the on-call schedule kept her away from family often for days at a time. Bardwell took her passion for helping women and funneled it into her work with Saving Grace and now, raising awareness for postpartum depression in Oregon.
"Postpartum depression is the most common complication of childbirth," Bardwell said, "and it's the most terrible. But with support, it swiftly goes away. The better job we do as a society to support moms, the more successful our communities will be."
Bardwell couldn't do everything in her life alone, she admits. Every mother, in her opinion, needs support.
"I have a really supportive boss, a really supportive partner, a really supportive workplace…" Bardwell said. "All of that feeds into me."
However, Bardwell doesn't think it's hard being a student mom with ambitions. She believes that with support, the only limit is what goals are set.
"Say what you want, and then do it. You just have to choose. You have to choose to show up, and do your best, even though it's tempting to give up," Bardwell said.