Miina McCown/The Broadside 
2021 has just started, and it's already crazy. Trying to come up with another idea for an article seemed like a difficult job and then I got this text from a friend in Georgia.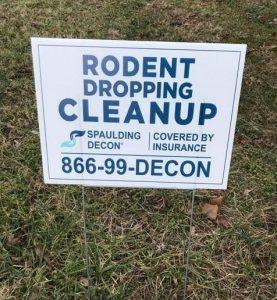 It made me remember that no matter how tough times become or how hard I think my job is, things could definitely be worse. I remember hearing about those scuba divers in Mexico whose sole purpose is to swim through the sewers to unblock them, pulling out entire bicycles and man-sized balls of fat that coagulate within the sludge. This article goes further into depth (no pun intended) into the murky waters of what it's like to be a professional sewer diver.
It made me wonder about some of our local heroes who do the "dirty jobs that someone has to do," so I decided to call a few and ask them about some of their toughest experiences. I wanted to create a reason for people to feel grateful during these difficult times; that no matter how hard their job could seem, it could always be worse.
Before calling our local guys, I decided to do research into dirty jobs and found that humor goes a long way when it comes to making tough times easier. For example:
(Spoiler alert: toilet humor ahead.)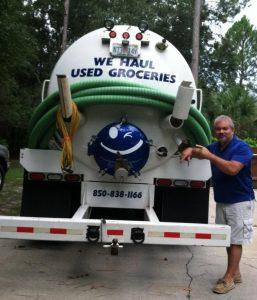 Jeff Myers Septic Pumping Service – Perry, Florida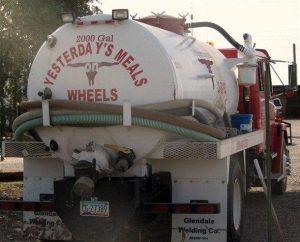 Yesterday's Meals On Wheels Septic Service – Stettler, Alberta, Canada
Action One Plumbing – Burbank, California
Then, I called locally…
"I've pulled out Ninja Turtles, Superman, just about everything out of toilets over the years," said David Schmidt of Renew Plumbing Services.
"We've also had someone who went to the bathroom all over the floor; they had whatever problem they did, and they tried to mop it up with rags and towels and thought they could just flush them down the toilet and that it would just go away."
– Dave Schmidt, Renew Plumbing Services

"If we had a slogan, it would probably be: 'Hukill's Plumbing – Never sick of dealing with your crap," said Donovan of Hukill Plumbing.
We find all sorts of weird stuff. I was in a crawlspace and there was a stuffed rabbit and it was just sitting in a very odd place… very creepy and weird and not normally something I see in a crawlspace."
– Donovan Jones, Hukill Plumbing

"I went to go do an evaluation on a septic system and I told the homeowner that I couldn't find his septic tank, and he goes, 'What do you mean you can't find it? You see that open hole there?' And I said, 'Yeah, it looks like a very old Volkswagen van.' And he goes, 'That's my septic tank.' And I said, 'Well that's not legal, buddy."
– Chuck Brock, The Tank Doctor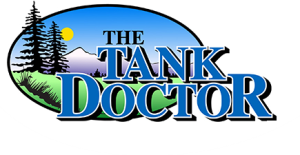 "The funniest thing about plumbing is when we're repairing the sewer lines," said Fred from Rapid Rooter of Central Oregon.
"We typically tell the tenants and the customers not to flush the toilets and not to use any liquids – right when you start cutting the pipe open, they end up flushing it on you. The other day I was repairing a sewer line. I told the customer not to use the toilets or anything like that, and I got the pipe all dug up and exposed. I cut it open, and then literally right as I cut the pipe and bolts to remove it they flushed the toilet… My foot was positioned right underneath the pipe so as I moved the pipe all the liquid from them flushing the toilet dropped right down my leg and into my boot!"
And if I had a funny slogan, it would probably be: 'The same old shiz, just a different shovel, and it's how you get a handle on it."
– Fred, Rapid Rooter of Central Oregon

Fred's philosophy for managing tough times struck me as both humorous and meaningful. All of these stories made me feel grateful to the people who keep our lives working behind the scenes. So, whether your troubles are rat-dropping-sized or, um, something much bigger, just remember that a little humor, perspective, and gratitude can go a long way. A big thank you to our local heroes!