Cedar Goslin
The Broadside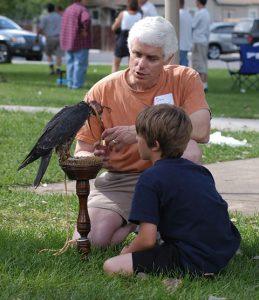 Though much of his time is spent in front of  two computer screens, being the Director of Information Technology services is only part of Dan Cecchini Jr.'s identity. He is still in pursuit of the passion he's had since he was a child.
When he was nine years old, Cecchini read that a peregrine falcon can dive at 200 miles per hour and that's when he was hooked. Cecchini trained his first falcon in 1970. Because of his interest in birds, particularly raptors, he planned to get a Ph.D in zoology so he could make a career doing what he loved. However, when he got engaged in grad school his plans changed.
"I started thinking about things differently," said Cecchini.
For the first time he began to wonder if a career in zoology would be stable enough to support a family. After seeking advice from one of his mentors, Cecchini decided that he could change career path while still incorporating falconry into his life. He went back to college for a second bachelor's degree, this time in computer science, in addition to the Bachelor's degree in Biology and Master's degree in basic science that he already had.
Now Cecchini continues to build on his passion for falconry, which is something he said he couldn't have done without the proper dedication to stick with it.
"It's not something that you can just decide not to do for a weekend…" said Cecchini. "It takes commitment."
On most mornings, Cecchini gets up well before dawn to work with his birds. Currently he flies a black gher falcon that he raised from a hatchling named Wilbur and a female ferruginous hawk named Eowyn, which he was asked to train for falconry so she could have a more active life. Cecchini spends hours working with his birds to keep them in their hunting prime, and by the time he's finished, the sun is often just starting to rise.
Cecchini likened the experience of training raptors to the days when he would help his son prepare for running track.
"You feel like you're a coach for an athlete," said Cecchini. "because you're conditioning them to be at their physical peak… which they have to be to compete with wild quarry."
When hunting with one of his raptors and his german short hair pointer hunting dog, Cecchini said he feels like even more of a coach, because the dog and the falcon are the team working together, and he's just there to offer guidance.
"Neither the dog nor the falcon are tethered to me," he said. "everyone's just there to do a job, and we all work together."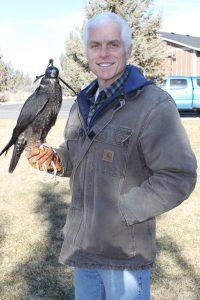 Though the point of falconry is to hunt game, Cecchini said that more than anything it's about flying the bird.
"If you just wanted to make a kill, there are a lot of easier ways to do that," he said. "In a way you're living vicariously through the bird."
When Cecchini and his raptors do make a kill, he said that it's a big deal for his family to cook the animal– and because the birds need to eat, too, none of the kill goes to waste.
Keeping his unusual pets fed takes as much work as training them to be athletic hunters. Every year, Cecchini raises about 1000 quail for his raptors to eat. The annual cost of feeding is about $700 per bird.
For Cecchini, falconry is about more than the birds and the sport itself; it's about the places  takes him. Cecchini is the US delegate of  International Association of Falconry and Conservation of Birds of Prey, and because of that and other positions he holds, he and his family have been called to international falconry conferences..
"Part of it is the friendships I've formed all over the world because of falconry," said Cecchini.
At the conferences, Cecchini enjoys celebrating the centuries-old history of falconry, as well as making friendships with falconers from different cultures.
"There's the comradery between other falconers…"said Cecchini. "It's really rewarding to make all those friendships and meet all those people."
Cecchini has entertained falconers visiting the United States from places such as Australia, New Zealand, and South America and taken them out hunting with his own birds.
Cecchini's hobby is also a big part of his family life. His wife, Sue Cecchini, is a licensed falconer who has been flying falcons since the 80's, his son Daniel Cecchini III–the Admissions Advisor at Oregon State University-Cascades– is a Master Falconer, and his daughter, though not a licensed falconer, has participated with her family.
Cecchini has proven that choosing a different career path doesn't necessarily mean abandoning one's passions. Over the years he has been a prominent and well known member of the falconry community. He has been the editor of falconry magazines, has been invited to White House conferences regarding North American wildlife and has even drafted laws, including new falconry regulations that came into effect in January 2012. He works on educating people on raptors and conserving the populations of raptors and sage grouse.
"Education on raptors is very important to me," said Cecchini.
Currently, Cecchini holds a number of titles relating to falconry, including secretary of the North American Grouse Partnership and US delegate of the International Association of Falconry. He's also a member of several committees within the Oregon Falconer's Association, and one of only 50 people in the United States with a bird abatement license, meaning he fly his falcons year-long to keep pest birds away from crops and airplane runways. In addition to his professional responsibilities and activities as a falconer, Cecchini is also active in the Bend High School booster committee, and he volunteers to help his daughter's dance team. Cecchini said that when he decided to change his career path, he saw no reason to abandon his passion for working with raptors, though it took a lot of dedication and hard work.
"Just because something's not going to be your career doesn't mean it can't be part of your life," said Cecchini.
(Contact: [email protected])