Ayla Adkins/The Broadside
Many children, and adults, are a little disappointed with the lack of Halloween spirit this year. Social distancing, unfortunately, doesn't usually involve Halloween parties and trick or treating. So instead of letting yet another event slip past due to COVID-19 this year, Carrie Ramoz, the Director of Marketing for the Old Mill District, decided to put some spirit back into Halloween.
From Oct. 24 to Oct. 30, the Old Mill District set up three-dimensional photo stations throughout the Old Mill. Families are encouraged to "wear their best costumes and visit the photo stations," said Ramoz. Photo station themes included "Harry Potter, Frozen, Star Wars, Lollipop Land, Fall Harvest," and even a station dedicated to pets.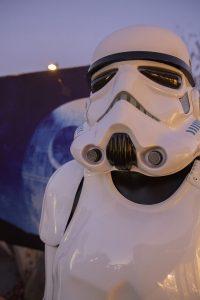 Even better, guests who shared their photos online and tagged the Old Mill (@oldmilldistrict) are automatically entered into a raffle and had the opportunity to win "1 of 19 Old Mill District Gift Cards ranging from $100 to $200".
Ramoz said that her favorite part about this year's festivities was when "the big kids saw Hedwig in his owl cage at the Harry Potter 9 3⁄4 station, and when the younger kids saw Olaf at the Frozen scene. Their excitement is contagious and so wonderful to see!"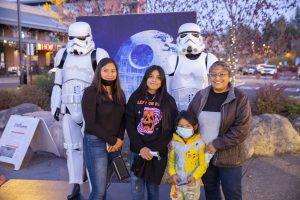 Speaking of contagious, although this event met social distancing guidelines, the Old Mill District made sure to "sanitize touchpoints [at the photo stations] throughout the day" and provide "hand sanitizing wipes near each station." Old Mill was also highly encouraging guests to follow safety guidelines, such as staying 6-ft apart and wearing masks.
All this Halloween spirit was fully funded by the Old Mill District. "We look forward to Halloween every year as a way to welcome the community and thank them for their support." said Ramoz, "This was still important to us this year, even if we shouldn't host our typical large trick or treating event. So many events this year have disappeared or become virtual. We wanted to provide a safe community event that was still in-person, involved costumes, and provided a fun and safe reason to get outside and enjoy this fun season."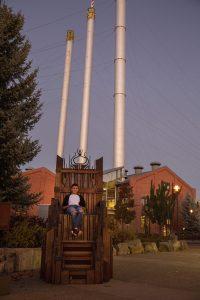 This event was such a hit that perhaps this one-time week-long event will become a yearly Old Mill District tradition. "It's not the normal Halloween experience," said Ramoz, "but it feels like a small bit of normal."