By Adam Case | The Broadside (Contact: [email protected])
Did you know that Central Oregon Community College is an arboretum? What is an arboretum?
It's "a designated collection of trees and other woody plants that are made available for education, scientific research, ornamental and even artistic endeavors." The college offers a brochure guided tour around the campus to view its collection of more than 80 species of trees. The trees are native to Central Oregon as well as from around the rest of the world.
The tour comes in two parts for the upper and lower campus. Each part can take around two hours and covers about two and a half miles.
The trees are marked with small informational plaques. The European yew, (Taxus Baccata) found in the upper campus near Pioneer, was used to make longbows in the Medieval era and today its extracts are used in chemotherapy. The tour can be taken at any time of the year but ideal times to view the deciduous trees are April through Sept.
Though it is still early in the year for this tour to be fully appreciated, it can still be pleasant to take a friend on it during this particularly warm winter.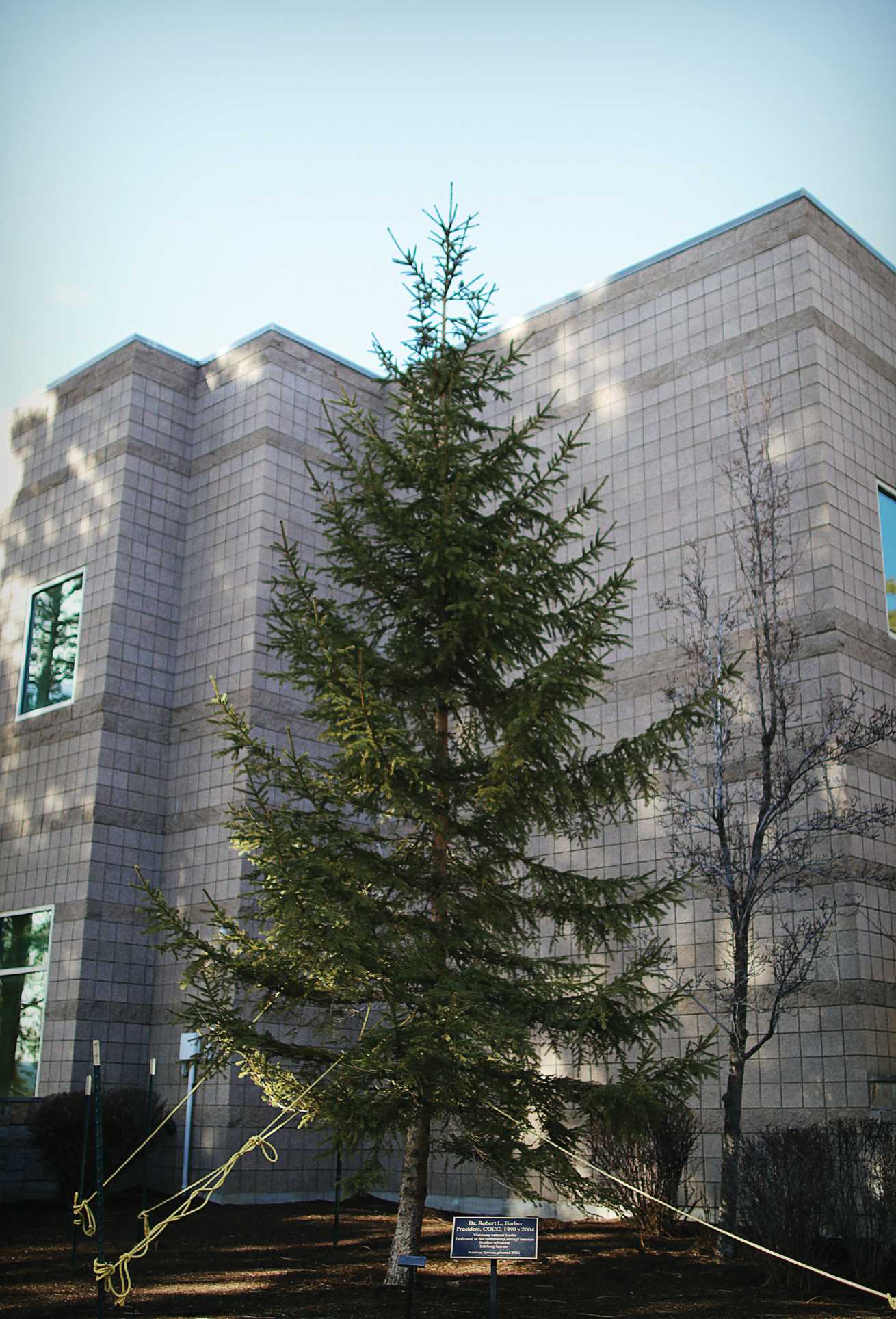 It is during the winter that you can best recognize the distinct deep red of the red-osier dogwood, a lesser known local shrub. Many of the trees around campus are protected by black corrugated plastic tubes wrapped around their bases, which are beaver guards to prevent the animals from chewing the trees down.
Several of the tour's trees also serve as a dedication to members of the COCC community. A Norwegian spruce dedicated to Dr. Robert L. Barber can be found in front of the Barber Library.  Barber was COCC President from 1990 to 2004.
There are a few species of tree around campus which have a pleasant and curious adaption. They smell like honey to attract bees and aid in their pollination such as the black cottonwood or Populus balsamifera.
First year student Brandon Smith, like many other students, had not heard of this resource, "I wish they had told me." He said he would like to go view the trees if there were a tour available. Brandon said he'd love to go out with some friends to learn the names of the imported foliage.
The trees did receive some attention this past October during an art exhibit titled 'The Arbor Ballet.' The trees became part of outdoor art piece by Helen Lessick. They were adorned with tutu's [pictured] and given live music performed by cellist Emma Chaput. Chaput performed an original song 'tree rings' for the event. For the same event art professor of 18 years, Bill Hoppe, joined with the schools forestry program to give a joined art and ecology tour of the arboretum.
Hoppe adores our beautiful campus and admires the foresight of those who first established the arboretum here. It provides an opportunity for those living in the High Desert because of our limited variety of trees, especially due to the 'infestation of junipers' according to Hoppe. Local residents would never be able to see many of these diverse international trees otherwise.
More information as well as a digital version of the map can be found at https://www.cocc.edu/about/visitors/arboretum/ ■