"[Mural painting is] hard on the knees, hips and back, but it's worth it," Zach Graves said while painting a wall along the pence hall in Mural Painting.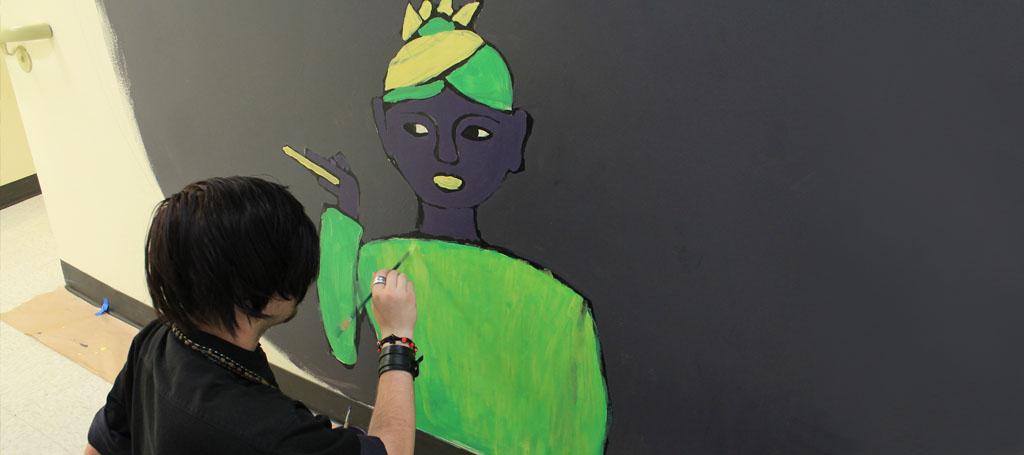 This is the first term Mural Painting has ever been offered at COCC. The class is taught by Paul Bennett who is an experienced mural painter. Bennett has two hand-painted murals displayed at Strictly Organic Coffee in the Old Mill that he did in collaboration with his wife, Carolyn Platt, who also teaches art at COCC. One depicts the Deschutes River and its wildlife. The other features the faces of dogs.
Bennett also helped design the murals in the two tunnels under the Columbia Road bridge. The project began with a group of 27 designers from Nike wanting to do a community art project with the Art Station in Bend. Bennett, along with the 27 designers and 20 middle-school aged students, worked to create the murals running underneath the tunnels.
Bennett proposed the idea of a mural class to the faculty members and they unanimously approved. He gave thought to how the Pence building is used and decided to reflect the performance and visual arts produced in Pence to the Harlem Renaissance.
The Harlem Renaissance describes the cultural, social and artistic expression that took place between the end of World War I and the middle of the 1930s in Harlem, New York. During this period, Harlem was the cultural center for african american writers, artists, musicians, photographers, poets and scholars.
Each student was told to research a person involved in the Harlem Renaissance and to do a three-foot-by-three-foot painting before painting on the wall.
"I was a dancer," said Rihana Debler, a student in the mural painting class, "so I chose to paint Josephine Baker who was also a dancer and performer. She was best known for her banana dance."
Bennett said that the challenge would not be the research process, but figuring out the overall composition of the mural.
Sumi Sakasegawa, another mural-painting student said, "We are all doing this for the first time and we are all learning to work as a team." All the students have their own unique style, but ultimately it will be a uniform piece. The piece is now about twenty percent complete and is displayed in the Pence Hall.
Danielle Meyers | The Broadside
(Contact: [email protected])