Whether you're on the lookout for a delectable donut or a refreshing Thai iced tea,enjoy these tasty treats while soaking up the warm summer weather at a local food cart. Experienced Bend foodies can find over a dozen vendors sprinkled throughout town boasting a global selection of cuisines, but for everyone else, we've found three great carts around Bend to get you started.
Thai On The Fly
1002 NW Bond Street.
$7 per entrée.
Hidden around the corner next to Sports Vision Sunglasses, Thai On the Fly serves up some of the best Thai food in town. The cart features a menu of five entrees, from ginger chicken to green curry with bamboo. Vegetarian options are always available. Every entrée is made to order, and the owner often tastes the food before serving it. Of course, no Thai restaurant would be complete without some really good Thai iced tea, which is also offered at this quaint little Thai cart.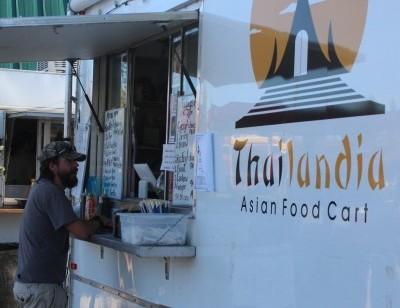 Real Food Street Bistro
735 1/2 NW Columbia St.
$9-11 per entrée
Real Food feels a lot like the food cart version of a corner café. The side of the cart is plastered with information about concerts and other local events. They offer a simple list of meals and they make those meals very well. Their Reuben sandwich is piled high with house-cured corned beef and has just the right amount of tang. But the talk of the Real Food cart is their famous fish tacos. Real Food also offers so many beverages they have a refrigerator parked next to the actual cart.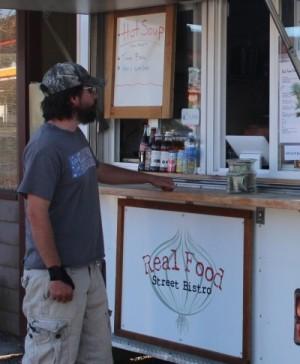 The Brown Owl
745 NW Columbia St.
$7-9 per entrée
The Brown Owl is easily the most quirky of the food carts in The Lot. The menu is incredibly simple, with entrees such as "The Burger", "The Bowl", and "The Sandwich" that all use some unique ingredients for scrumptious results. The Burger includes mustard tossed greens and pickled onion and it tastes really, really good. The Bowl can be ordered with chicken that's been cooked using 40 cloves of garlic. Not only is eating at a food cart fun and cheap, but owners take pride in their small businesses.
"It's fun to get to do everything. We're cooks, dishwashers, servers, and cashiers." Lisandro Ramon, manager of the Brown Owl, said. "There's no crazy overhead or a million employees."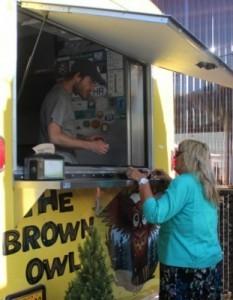 Kelly Lawer | The Broadside
Contact: [email protected]