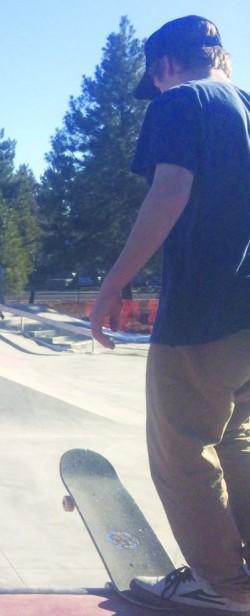 For students Leo Walterscheid and Eric Banderas, peace is found by hitting the pavement of Central Oregon with their skateboards.
"[Skateboarding] is freeing and relaxing and a good way to blow off some steam," Walterscheid said.
Walterscheid began skating eight years ago after his parents recognized their son's interest and enrolled him in a skateboarding camp.
"At first I didn't like it at all," Walterscheid explained, "but then it grew on me."
What once was an interest has now become an outlet for Walterscheid. When he is not on the Bend campus attending classes, you can find him at the indoor skate park in Bend where he works and skates. It is here that he met Eric Banderas, another skateboarder who shares Walterscheid's interest in skating.
"I started skating when I was 14," Banderas said. "I saw some kids doing it down the road and I thought it looked cool."
Now 21, Banderas is still skating as he attends Central Oregon Community College.
For skateboarders in Bend, finding a place to skate may not be the easiest task.
"One of the biggest problems here [in Bend] is we don't have any street skate spots," Walterscheid said. "Where in places like Portland, you do."
Although Bend may not have street skating locations, the skateboarding scene in Bend is growing. This has largely to do with the new skate park that was opened this past January near the south end of Ponderosa Park. The project was initiated by the local skateboarding advocacy group Providing Urban Skate Habitats and the Bend Parks and Recreation District. The groups joined together to restructure the original skatepark, which was built in the 1970s, to give a place to skaters that is entirely their own. This has greatly helped the Central Oregon skate scene, according to Banderas and Walterscheid.
"Its an amazing skate spot," Walterscheid said. "The new skate park is great for the skate scene."
The new skate park has not only satisfied more mature skaters, but generated younger skaters' interest as well.
"I go to the new skate park," Banderas said. "Now I see a lot of younger skaters out there."
As the skateboarding community grows in Central Oregon, outsider's opinions are becoming more apparent.
"There's definitely a stereotype of being a punk or disrespectful," Walterscheid said. "Not all skaters act that way. It's easy enough to change the idea of that by being kind, respectful, and smiling at people."
However, no matter what others may think about them, skaters like Walterscheid and Banderas still focus on skating.
"Skating really makes you work on yourself and pushes you to be better," Walterscheid said. "I skate because it's what I like to do and it's fun."
Emily Kalei
The Broadside
Contact: [email protected]