As a student on a college budget, finding time to cook can be a challenge. Meals in a mug seeks to bring readers creative and nutritious meals armed with only a microwave and a mug.
Having the urge to make a cake?  Baking an entire cake can be expensive and time consuming and you may not have enough room in your tiny refrigerator to keep it moist for your lunches for the next few days. If you want a simple way to get your salted caramel chocolate fix and still have time for your studies, this week's recipe is the one for you.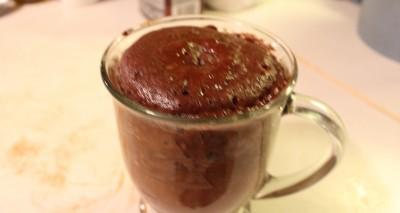 Salted caramel chocolate cake in a mug
Grocery list
butter $2.59-$4.69
lb sugar $1.43
5 lb unbleached flour about $2.17
baking powder $1.99
1 lb, 10 oz Iodized salt 67 cents
Coarse Sea salt: about $1.89-$3.00
1 dozen eggs $1.49
unsweetened cocoa powder $ 3.98
milk about .89- $5.00
Ingredients:
4 tablespoons all purpose flour
4 tablespoons sugar
3 tablespoons unsweetened cocoa powder
¼ teaspoons baking powder
¼ teaspoons salt
1 egg beaten
3 tablespoons milk
1 tablespoon vegetable oil
2 salted caramels or four if you want a more caramelly flavor
Directions:
1. In the mug, combine flour, sugar, and cocoa baking powder and salt, then stir.
2. Add sugars, vanilla, and salt. Stir to combine.
3. Beat egg in separate cup. Then add egg, milk and vegetable oil to mixture and stir well.
5. Drop caramels into center of the mixture (if you were not able to get salted caramels, you can add some sea salt to the caramels as you drop them into the mixture).
6. Microwave on high for 90 seconds and if cake is still gooey, microwave on high for an additional 30 to 60 seconds.
7. Remove from microwave and let cool for about 30 seconds. Grab a glass of milk and enjoy.
Vera Holiday
The Broadside
[email protected]