Chris Browning
The Broadside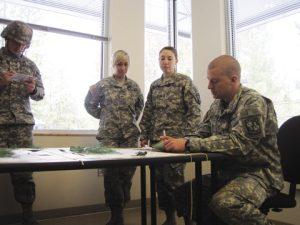 Artillery shells fall from the sky as the squad watches from across the river. Taking out enemy targets while avoiding civilian casualties was the primary objective in this exercise. An objective that Central Oregon Community College's Reserve Officers' Training Corps cadets seemed to have accomplished successfully. The cadets wrap-up the exercise by sending a transmission for the firing to cease. Paper huts and cannons are propped back into place as a plastic squad of army men are pushed back over a river of blue construction paper.
"The purpose of this exercise was to practice strategy," explained Travis West, a ROTC cadet at COCC. "The Military Science Club is here to develop the skills of cadets so they can serve their country effectively when the time comes," said West.
Paper huts and toy soldiers aside, the MS Club is honing leadership skills, which have been taught by the college for the last three decades. The MS Club is an extension of the Military Science courses offered at COCC which prepare students for service in the armed forces.
"The club is open to civilians too, but all of our members are currently training to become military officers," said Lindsey Martin, an ROTC cadet studying business administration.
Every spring term during the third week of April, the club ventures out to the Redmond Biak Training Center for the Warrior Challenge. The annual challenge lets soldiers and civilians compete in paintball tournaments and physical competitions for prizes and recognition. The Biak Training Center, named after an island where Japanese and US forces went head to head during the second world war, has an electronic firing range which allows soldiers to experience live fire without using actual bullets.
"The guns recoil and emit the same noise and smoke associated with live fire," said cadet Tyler Batten about the Biak Range.
Whether its teaching students about gun safety, hosting paintball tournaments, or practicing battlefield strategy, the MS club gives students the knowledge and opportunity to become leaders.
(Contact: [email protected])