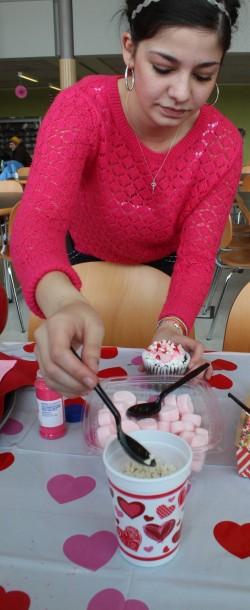 Megan Bernard is seeing more residence student involvement this year than in years past. Bernard, the resident director at Juniper Hall, charges the resident assistants with being examples to the students.
"The biggest thing is our trying to role model that," Bernard said, "and giving them the resources to go look at it themselves."
Bernard and the RAs wait two weeks from the start of term to see what students' interests, desires and aspirations are before encouraging them to get involved. That also allows them to focus on their studies and adjust to the academics side of Central Oregon Community College.
"We get to know them, their interests, what they've done in the past and what they want to do here," Bernard said.
Susanna Hernandez, a residence student involved with student government, sees a lot to be desired in the involvement of her fellow residence students.
"I feel like in the dorms, everyone's in their own world," Hernandez said. "A few of them work, so they don't have time to be involved, but most just don't want to."
When Hernandez came to COCC, she wanted to get involved in the community and the college. She was hired by the Associated Students of COCC as assistant to the director of student affairs, a job that has allowed her to work with student government as a liaison to the community. Hernandez is involved with the Special Olympics and the Bend food bank.
"I'm really active and I always know what's going on," Hernandez said. "I've actually talked to some of my dorm mates and told them I love being involved… [and that it's] a great way to get to know their school and community better."
Kayla Miller, ASCOCC director of student activities, was a resident assistant during the 2012-2013 school year. When she ran for student government, the support she got from fellow dorm students helped her receive over 50 percent of all student votes.
"I'm not allowed to campaign for myself in the student council elections," Miller said. "So my friends printed out these fliers and shoved them under doors."
As director of student activities, Miller is in charge of running events like ASCOCC's free bowling and free ice skating nights–events that are attended mostly by residence students.
Residence students are involved in many events on-campus–not only ASCOCC's events, but the residence hall's as well. The residence hall is puts on programming specifically for dorm students–RAs are required to organize four social and two educational events per year, according to Roxie Kanable, RA at Juniper.
"The RA job keeps me pretty busy," Kanable said. "We usually have one program per week… ice skating, bowling, Super Bowl programming… We took a group to the high desert museum to learn about Central Oregon history."
The residence hall's biggest event is Paint the Deschutes, a public service project toward the end of the year that helps out a local family.
"A family is selected and everything is paid for," Kanable said. "We paint their house and do their yardwork… We do everything they can't do, whether it's physical or financial."
What many of the dorm students don't realize, according to Bernard, is that extra-curricular activities can strengthen future resumes and applications.
"They don't realize that getting involved can help them in their futures," Bernard said. "Extra-curricular things are what universities are going to be looking for."
Scott Greenstone
The Broadside
[email protected]