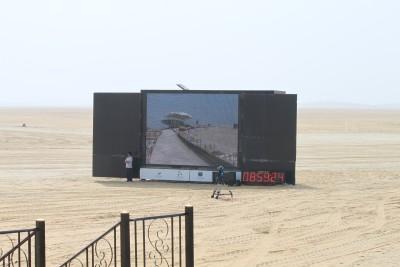 Dan Cecchini may be a college employee, but his other interests just took him across the globe, bringing him in contact with an emir and letting him expand global efforts for sustainable energy.
Cecchini, the head of the Info and Technology Services at Central Oregon Community College, is a dedicated supporter of wildlife and a U.S. birds of prey delegate. He recently returned from a January visit to Qatar, a small country in the Middle East. In the country, he met political leaders while addressing the impact of wind energy on the environment.
Working his way up
Cecchini did not begin as a U.S. delegate. In the beginning, it was an interest in falconry that got him started. Cecchini has been both training and flying falcons for more than 40 years, as well as involving himself in the legislative aspects of the interest for about 30 years.
For him, his growth to a national spokesperson started with natural steps.
"I was selected by the North American Falconers Association to be the U.S. delegate to the IAF [International Association of Falconry and Conservation of Birds of Prey]," Cecchini said.
Cecchini is also the president of the Oregon Falconer's Association, but the position as a birds of prey delegate is far more expansive.
"[It's] an organization that currently represents 60 countries that have falconry, and that have various projects associated with raptor conservation."
This year, Cecchini experienced the responsibilities of being a delegate in a whole new atmosphere: Doha, Qatar, in the Middle East.
IAF conference: growing concerns
While the trip to Qatar had lighthearted moments, the main point was the nearly global collaboration of the International Association of Falconry and Conservation of Birds of Prey. The organization met in time to address issues with energy sustainability on developing environmental impacts.
A growing concern for the organization is how to deal with the widespread environmental results of one type of energy: Wind turbines. Cecchini presented issues in ecology to the other 59 national delegates on the committee using his book Spinning a Green Yarn: Another Inconvenient Truth.
"I gave a presentation on the negative impact that commercial wind energy has on wildlife," Cecchini said. "Specifically I talked about raptors, bats and sage grouse."
Cecchini had a Western perspective on the issue, as he is currently on the board of directors for the North American Grouse Partnership. For him, a huge issue of negative impact is what wind energy has been changing in the ecosystem of native birds.
Wind energy was an innovative solution to sustainability a decade ago, but it is now taking some birds to the brink of endangerment. The average professional wind turbine runs at about 22.3 miles an hour, according to Wind Inc., a wind turbine supplier. That is very detrimental to wildlife, Cecchini said.
"For birds of prey, including Golden Eagles, they actually get hit by the turbine blades," Cecchini said. "Bats get killed by the pressure differential created by the wind turbines, and they'll actually have the blood vessels in their lungs explode by pressure differential. When it comes to sage grouse, the big impact is not from the actual blades; it has a lot to do with where they locate the wind farm."
Part of the issues that Cecchini addressed in the conference stemmed from his research on the devastation created by wind power. One of Cecchini's main points was the impact on sage grouse. In Oregon, an increase of wind turbines in natural habitats of sage grouse has created nesting places for birds of prey, Cecchini said.
"The power for those high voltage lines, those high tension lines, become platforms for predators on the sage grouse," Cecchini said. "Sage grouse are on the edge of being listed under the Endangered Species Act."
Grassroots movements in sustainability
Already Cecchini's work at Doha is starting to have global effects. Cecchini is currently getting involved in efforts for eliminating wind energy in France by working with a French supporter of wildlife who is both a lawyer and a falconer.
"The impacts of commercial wind energy is pretty significant in France at this point, so he's actually [preparing to file] a lawsuit against the French government as well as a maker of wind turbines to try to stop an additional implementation of wind energy in France," Cecchini said.
The lawyer will be using Cecchini's recent research as a major support frame for his case.
"He contacted me and asked for a copy of my book so he can use that as the material," Cecchini said. "I'll help him on some other data and backbone information regarding the impacts on wildlife that wind energy has, at least in North America. I think he'll use that as leverage to address the impact that wind energy has on wildlife in France."
Meanwhile, Cecchini is also on the cutting edge of grassroots efforts in America. Environmental organizations like The North American Platform against Wind Power are starting to consider other types of energy, due to problems with wind energy.
"To replace all the additional carbon dioxide that's generated by fossil fuels every year, you'd have to take up an area the size of the country of Germany with wind farms every year, year after year, just to keep up with the increase in CO2 emissions," Cecchini said. "It would be spread out over the world, but that's the kind of volume you're talking about."
Cecchini says at a political level, the concern is starting to become a viable issue.
"There's a lot more people putting pressure on Congress to stop the subsidies, because without the subsidies, the whole thing just basically falls apart," Cecchini said. It's simply not profitable for the large corporations that own wind energy farms to be able to operate without having significant government subsidies."

Junnelle Hogen
The Broadside
[email protected]