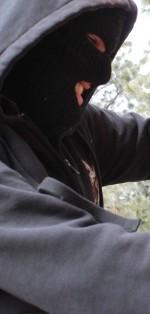 The college has a lower crime rate than the city of Bend, and that's because of an involved community and a proactive public safety department. Jim Bennett, campus public safety coordinator at Central Oregon Community College, encourages every student to take steps to prevent becoming a victim of crime.
"It's important for every member of the community to have a crime prevention mindset," Bennett said. "We're very fortunate that theft is infrequent here. I attribute a lot of that to our community reporting suspicious activity and not tolerating crime."
In campus public safety logs, there are two types of reports–calls for service and cases, Bennett said. A call for service could be anything from locking or unlocking a door to a report of suspicious activity, whereas a case takes investigation and is more serious.
"When you look at policing, good policing of an area involves calls for service up, cases down," Bennett said. "If you report a suspicious vehicle and the driver was getting ready to commit a burglary, that burglary never happened."
Students, faculty and staff have a responsibility to report "the light that's out, the slippery sidewalk, the suspicious person, and any crime," Bennett said.
Students can also take steps to prevent crime happening to them. Theft is the biggest crime on campus, and theft from vehicles is the most common, according to Gordon Price, director of Student Life.
"Walk down college way and you'd be amazed at some of the things you'd see sitting in people's seats," Price said.
Campus Public Safety finds many unlocked vehicles on campus. Bennett discourages leaving vehicles unlocked, along with leaving anything inside the vehicle.
"Even gym clothes," Bennett said. "It is by far better to lock it in the trunk. Since I have been here there's never been a break-in to a trunk."
All-day students should move their cars in the later hours closer to the buildings they have class in. In best case scenarios, Bennett encourages calling someone and telling them when class is over. If a student has a specific concern and needs an escort, they can call Campus Public Safety at (541) 383-7272.
Price encourages students using the locker rooms to lock up their belongings–especially backpacks.
"A couple years ago we had a rash of thefts in the locker room," Price said. "A half-dozen in a week or so, so we know it was someone casing the joint."
Many crimes can be prevented if no opportunity for crime is given, according to Price. However, a small amount of infrequent crime at COCC is violent.
The last violent robbery at COCC occurred on April 25, 2013 when an attempted robbery was made on a student waiting for the bus. William James, whose wallet was taken and who tried to fight back, was "slammed against the glass enclosure around the bus stop," as reported by The Broadside on May 1, 2013. He later found he had suffered a concussion.
But James quickly brought attention to the crime taking place and called for help as the attacker, later identified as Jonathan White, walked away. Eventually, the perpetrator reneged and gave back James' wallet.
"[James] stood up to him and got a good ID, so Bend PD was able to find and arrest him," Price said.
James encourages students to choose how they react to each situation.
"In my situation, I made a whole bunch of noise, and two people saw what was happening," James said. "He got scared because of all the noise I was making. …I called Campus Public Safety and they called the Bend police."
Price encourages students to do what James did and report any suspicious activity.
"It takes a whole community to create that atmosphere where theft is not tolerable," Price said.
Scott Greenstone
The Broadside
Photos by Vera Holiday
The Broadside