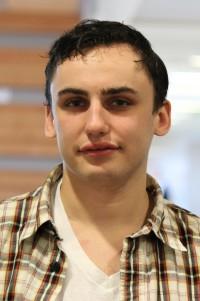 In summer, Spencer Perez pushed through the embarrassment and came to class in dirty clothes. After class, he went back to his tent.
"In the morning…I'd move the tent so no one would steal it because homeless people always try to find other people's camps and steal it," Perez said.
Perez is one of many students at Central Oregon Community College who are classified by the 1987 McKinney-Vento Act as homeless. Tyler Hayes, financial aid advisor at COCC, talks to new students who are homeless every week.
"I try to exercise sensitivity with their situation and where they are," Hayes said. "We've got to be careful not to separate them–they're just like anyone else."
Students experiencing homelessness need what is called an unaccompanied homeless youth verification letter to get financial aid. Mara Stephens, homeless liaison with Project Homeless Education and Learning Program, is the one who provides them with these letters.
"Of the students I hand out letters to, probably 85 percent are interested in furthering their education," Stephens said.
What stops these students from following their dreams of college is perceived obstacles–often ones with no substantial basis.
"Some of these kids, they just see walls in front of them," Stephens said. "When I meet with them I can help take down those walls. I had a student come in and tell me, 'I wasn't thinking about college, but after talking to you, now I am.'"
Many students have to change the way they view higher education in general before they can actually see the way academics can better their lives. The spheres they are part of and the people influencing their life doesn't make that easy, according to Stephens.
"They could be coming from a family where they're the first to graduate college," Stephens said. "They may be coming from a place where they don't know anyone who has benefitted from college…They might not have parents, but they may have family members that are influencing their commitment to education."
Hayes works with these students to help them receive financial aid, a critical piece of getting them to school. Most of these students can't get the paperwork for the Free Application for Federal Student Aid on their own.
"Getting [tax info] from the parents can be impossible," Hayes said. "But if we can determine that the student is an independent, they don't have to worry about putting parent info on the FAFSA."
If Hayes can prove that the student is independent, they're eligible for substantially more loans.
"Whereas dependent students can get $5500 max a year, an independent gets $9500," Hayes said. "They have an opportunity to get a pretty good financial aid award."
Financial aid isn't the only support Perez has received at COCC.
"I've never had a professor who didn't believe in me," Perez said. "I had to miss ten days of school last year, but I was honest and up-front with my professors and they let me turn the work in without docking points."
Perez aspires to go University of Oregon and become a neurologist.
"When I tell people that, they think 'he's got no chance,'" Perez said. "I want to be successful. …Last year, I was here from when school opened to when it closed, working hard."
But homeless students do have a chance at succeeding at COCC, Hayes believes, and he's seen it happen.
"The great part about this job is having them come back to my office and seeing them succeed," Hayes said.
On his own road to success, Perez encourages his fellow students to really be grateful for the situation they're in.
"Don't just get that credit," Perez said. "Don't just settle for a 'C.' …Your parents, maybe they're annoying but they're there for you when you fall on hard times."
But Perez still doesn't tell the students in his classes that he's homeless, because he doesn't want to be judged.
"We're not homeless because we want to be," Perez said. "We're homeless because we don't have a choice."
Scott Greenstone
The Broadside