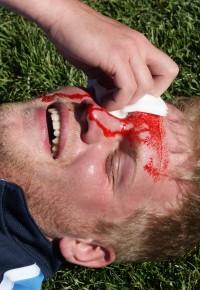 Although Michael Callahan, a student and rugby player at Central Oregon Community College, has never received a concussion himself, his injuries acquired during rugby have left him unable to complete a full season.
"Last season we had about one or two players who were out because of concussions," Callahan said, "and this year was the same."
A concussion is a traumatic brain injury that alters the way a brain functions, according to Dana Topliff, chair of the nursing department.
"[Concussions] are more common if you play a sport," Topliff explained. "Especially if you play a contact sport… prevention is the best way to treat concussions."
Prevention is a large part of keeping athletes healthy both on and off the rugby field, according to COCC rugby coach Woody Bennett.
"At the beginning of the year, we take a baseline concussion test, which we do on a computer," Callahan explained. "If you get a concussion, you take the test again and they compare your results with the baseline you took at the beginning of the year. They then use that to decide how severe your concussion is or when you can play again."
If an athlete receives a concussion, rugby is not the only activity that will be put on hold in their lives, according to Topliff. A student athlete's schooling could also be impacted by a head injury on the field.
"[Students with concussions] need to rest," Topliff explained, "They have to avoid activities that involve mental exertion… even school work loads should be limited."
Maintaining his goal of preventing concussions, Coach Bennett applies his extensive rugby experience to coach his players the correct techniques of the sport to reduce chances of injuries.
"You got to teach athletes how to tackle properly," Bennett explained. "You don't have to put your face in front. You need to hit low. You're dragging them down, not tackling them."
In addition to training his players how to tackle properly, Coach Bennett and the Bobcats have the safety of a trainer on the sidelines who is provided to them by their medical sponsor.
"We're lucky to have a trainer on our sideline," Bennett said. "A lot of schools and clubs we play don't."
When COCC's rugby players take the field, they know that if the worst happens, they are in good hands.
"I feel super safe with Coach Woody on the sidelines," Callahan said.
Emily Frances Kalei
The Broadside