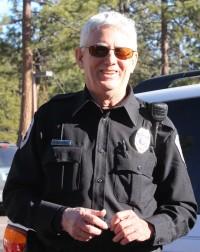 Take a criminal justice class and you'll see the high numbers of 40-plus students getting into the field. Though the average age at Central Oregon Community College is 29.2, criminal justice is a field that is never too late to get into, according to John Moccia, campus safety officer at COCC.
Moccia was hired at age 65 after working as Chief of the US. Pretrial Services agency in Hawaii. Overall, Moccia worked in law enforcement in Hawaii for 30 years.
"The criminal justice and law enforcement field offers so much," Moccia said, "so it is never too late to get into."
The campus safety department at Central Oregon Community College "routinely" recruits people of all ages, according to Jim Bennett, COCC public safety coordinator.
"We believe in and value the diversity that age brings," Bennett said. "When hiring we look at what individuals can bring that would create a diverse, effective, and professional department."
Individuals who hope to enter the field later in life are able to bring valuable life experience to the job, according to Moccia.
"Older individuals might be able to bring common sense and experience," Moccia said. "If someone enjoys young people and responding to people then whatever age you are able to do the job."
The only restriction would be the physical demand of the field, according to Moccia.
"Any patrol environment can be stressful and can require physical intervention," Moccia said. "So for someone to start in this area later in life it would have to be someone who is physically fit to respond to those situations."
After being in federal law enforcement for most of his career, Moccia found new challenges at COCC.
"This is all brand new," Moccia said. "The calls are different. …It is not necessarily natural evolution to go from working with offenders who had a greater impact."
The training offered after being hired as a campus security officer helped with the transition from federal law enforcement to campus patrol, according to Moccia.
"The training here is absolutely adequate. It trains you for every step along the way. Someone who is starting later in life might feel ostracized [somewhere else]," Moccia said. "Here it is very welcoming."
Bennett believes that those entering the career later in life are at equal advantage to those who are younger.
"It is best to take age out of the equation," Bennett explained. "Being in the law enforcement area requires common sense, understanding the community you serve. Someone who has life experience should be considered fairly for the same position."
Molly Svendsen
The Broadside