As Oregon State University-Cascades is getting ready for new dorms, the future of COCC dorm students may be changing, too. This summer, the Oregon State Legislature approved a $16 million bond allocation to help turn OSU-Cascades into a functioning four-year university. But since the location chosen for OSU-Cascades is not near COCC, the question arises: Where will dorm students, especially those considering dual enrollment, be heading next? COCC or OSU-Cascades?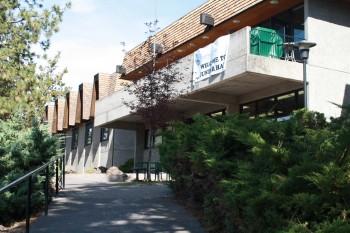 The new residence hall at COCC, planned to begin construction this year, may keep students. The expansion at the campus is a positive factor, according to Megan Bernard, the director of Residence Life at COCC.
"COCC's new dorm should bring more people," Bernard said. "For OSU-Cascades moving down in Bend, I think it would affect the student numbers, but not by a huge amount."
The new residence hall could make a difference in where people want to stay, and go. While the current residence hall at COCC only holds 100 students, the new proposed building will bring those numbers up to 330. And for both COCC and OSU-Cascades, much of the dorm residence areas will have been built recently.
Danny Cecchini, admissions coordinator for OSU-Cascades, says the two new OSU-Cascades housing buildings planned to be built off Mt. Washington Drive and 14th Street will be up-to-date.
"I think we will see more students choosing to live in the [OSU-Cascades] residence hall and for longer as the new facilities go online," said Cecchini.
Cost is another focal point in determining where students stay for their higher education. For COCC students living in a residence hall, the estimated total cost is $17,067 per year. But for in-state OSU-Cascades students living on-campus, the estimated cost is $21,575 per year. And that number does not consider what the costs of living in new dorms or attending the new campus may be.
Megan Bernard, COCC residence life director, thinks the price tag will be a determining factor in where students board.
"It's just cheaper to stay at a community college," she said. "Students can go to COCC and then transfer [to OSU-Cascades] if they want to go further."
Cecchini and Bernard both think the expansion will not weaken OSU-Cascades' partnership with COCC.
"There are a lot of students in the residence hall that are COCC students that plan to transfer to OSU-Cascades someday," Cecchini said. "Nothing will change for those students. If they start at COCC they will be able to live in the new residence hall at COCC and then have the option to stay in the OSU-Cascades new residence halls when they transfer over."
Another influence in where students stay is what degrees they choose. While OSU-Cascades is planning to significantly increase its listed majors, it will not offer everything COCC has.
Cecchini thinks this is a key decision-maker.
"COCC offers a lot of technical programs that we will never offer, and conversely, OSU-Cascades offers bachelor's degrees and master's degrees that COCC will never offer," Cecchini said.
One class of students is excluded from COCC's residence hall: those from foreign countries. Cecchini said OSU-Cascades does encourage these students to come and stay, and that will make a slight difference in dorm numbers.
"Since COCC doesn't admit international students, they [international students] will not have to worry about choosing which higher ed institution they will live at," said Cecchini.
But for the future, Cecchini says he hopes both OSU-Cascades and COCC will retain students.
"I'm excited to see what living opportunities both institutions come up with for the students," Cecchini said.
Junnelle Hogen
The Broadside