The current master plan gave the college the Campus Center, Oregon State University-Cascades, and more. What growth will the next one bring?
Since 1974, COCC has implemented a new master plan approximately every ten years, according to Matt McCoy, Vice President of Administration at Central Oregon Community College.
The last master plan, beginning in 2002, included COCC's campus center, the Cascades Culinary Institute, the Health Careers and Science buildings, the Manufacturing and Applied Technology Center in Redmond, the new Residence Hall, and many more buildings, McCoy said.
The current master plan was implemented around the time Dr. Jim Middleton became president of COCC, and will be almost complete when he resigns in June 2014.
"[The master plan] coincides with [Dr. Middleton's] time here," McCoy said. "He has completed the vision of the college at this time."
The master plan is a way to guide college administration in making decisions with COCC's future in mind, according to Middleton.
"A single decision might make sense on it's own, but may not be the best choice from a broader perspective," Middleton said. "It created a concept of what we wanted to do."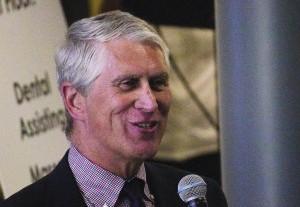 The vision of the college
The master plan's vision deals in generalities, not details, according to Dr. Middleton, and it has to be able to adapt to the times.
"You want some general guidance but you want some flexibility," Middleton said. "Get close enough so that it identifies your thinking but not so close it's a straight jacket."
When the master plan was outlined in 2002, the college was half the size it is today, according to McCoy. This changed the plan drastically.
"The thinking was incremental growth," McCoy said. "We had massive growth."
For instance, the master plan identified a need for a science and allied health building, but when the plans were drawn up the building would have been "like an aircraft carrier," according to McCoy.
"So we split it into two buildings–Science and Health Careers," McCoy said.
Also, when the master plan was decided upon in 2002, it was believed that OSU-Cascades' campus would be at COCC for longer than 12 years.
"We originally planned to build four buildings for OSU-Cascades," McCoy said, "but they decided to move. …So if we get Cascades Hall, we'll turn it into a student success center and move the testing and tutoring facilities out of the basement of the library."
"This feels like a university"
What about the next master plan? At this stage, little is certain, according to McCoy, but he wants part of it to address the first impression at COCC.
It's a possibility in the future that the City of Bend would gift College Way to COCC, and if so, McCoy has many ideas for it.
Those ideas include putting kiosks at both ends of the college so that visitors could stop, get a map and a friendly "Welcome to COCC," and ask where they need to go.
"Right now, when you drive in to the school, there's no feeling of 'now I'm at COCC,'" McCoy said. "This could change that."
First impressions are very important for visiting students, according to McCoy.
"We have a lot of people coming here saying this feels like a university," McCoy said. "We want that."
When the new president is elected, he won't be changing the plan drastically, according to Dr. Middleton. The president doesn't author or even have that much input into the plan: He or she is there to "support quality process."
"It's more important we make the right decision than make my decision," Middleton said. "The president may start with 'x or y sounds like a good idea' but the real goal is to to stimulate creativity and involvement."
Scott Greenstone
The Broadside