Central Oregon Community College's home series didn't start off so great, according to team captain, Adam McWilliams.
The Bobcats went up against Oregon State University on April 27 and 28 at Vince Genna Stadium in Bend. OSU won 22-2 on Saturday and 6-3 on Sunday.
"We really pulled together, came around and played some good baseball at the end," McWilliams said. "Jordan [Fugate No. 5] was struggling at the beginning of the week, but then a triple in this last game really got him on it."
COCC is one and seven in their conference, according to National Club Baseball Association, and three and seven overall.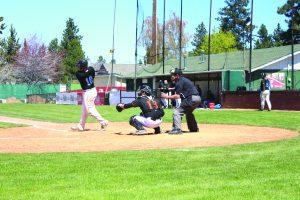 COCC has lot of "good guys" coming back next season, according to McWilliams.
"We got a lot of young guys, a lot of freshmen," McWilliams said. "It's going to be tough; the league's always tough. It's going to be hard to compete, but I think we're going to come back stronger next year.
–Anna Quesenberry
The Broadside
(contact: [email protected])