Would you pour six ounces of gasoline down the toilet?
Kirsteen Wolf
The Broadside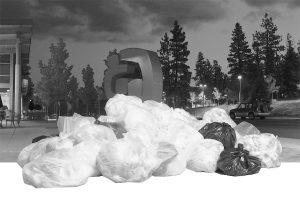 Most people would not, but they do the equivalent all the time: throwing a tin can in the garbage instead of the recycling bin, according to Sam Newman, a member of the Sustainability Club at Central Oregon Community College.
During  the recent Information Fair in Wille Hall, Newman had a picture of a man canoeing through a dense, floating mat of garbage as part of his club's display. There are giant patches of plastic debris in the Atlantic and the Pacific. The one in the Pacific has escalated to the status of "trash vortex" with 1.9 million bits of debris per square mile—and potentially much more— according to National Geographic. The one in the Atlantic is growing.
"I want people to realize that what we throw away can impact other ecosystems outside of Central Oregon," said Newman.
In the fall of 2011, the Sustainability Club organized a trash day where every bag of garbage on the entire COCC Bend campus was collected, sorted and cataloged. The results were dismal.
Of the five hundred pounds of trash collected, only one fifth of it should have been considered garbage, according to the club's data. The rest should have been recycled. There were 30-45 pounds of coffee cups alone.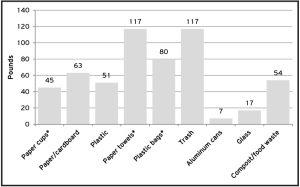 "I'm not trying to make people feel bad about drinking coffee," he said, but according to him most paper coffee cups are not recyclable.
Brandi Jordan, Associated Students of COCC's  outreach coordinator, helped organize volunteers for trash day. The event left an impression.
"I was particularly concerned with the amount of plastic bags that we are using and wasting on campus," said Jordan. "Eighty pounds of plastic bags is a lot, especially for one day's worth of trash."
Jordan would like to see efforts across campus to reduce waste.
The goal of the Sustainability Club is to reduce the amount of trash going to the landfill and increase COCC's sustainability profile by:
Rewarding those that bring their own coffee mug.
Installing high-efficiency hand dryers in the bathrooms.
Providing recycling bins in every classrooms and signs above them with clear instructions.
Working with COCC's gardening club on a composting program.
Encouraging a commute option program on the campus.
The first focus for the club may be the recycling bins in the classrooms.
"It's something people should get used to," said Newman. "It's 2012."
The Sustainability Club is looking for members who care about the environment who aren't satisfied with the status quo. Anyone interested can contact Sam Newman at [email protected].
(Contact: [email protected])