Michelle Greer
The Broadside
Student, intern, youth leader and Babylon fighter, Peter Erickson is a warrior of many talents.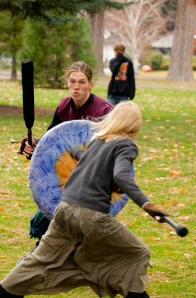 He started fighting in combat clubs with his friends at age 16. As a teen he was passionate about online RPG (Role-Playing Game) games and martial arts; the combat clubs offered both in a real-life package.
"I've been able to make real friendships and form relationships with people while working within my passions," said Erickson.
In 2007, Erickson started an advising service called "Bhakdar's Academy," where he offered his services to burgeoning combat groups. He promoted himself using the connections he'd made at national gatherings and using belegarth.com. This service led him to travel all over the mid-west and to advise in over 20 different combat clubs.
"My partner and I have always wanted to move to the West, we've just been oriented that way for years, and I needed to fund that move. The demand
for my services was much more than what I imagined," said Erickson.
In 2008, Erickson did move to Oregon and has made Babylon his sword fighting outlet. He's most proud of how he's transferred his experience in
the combat clubs into his personal and professional development.
Erickson is earning his Masters in Counseling at OSU-Cascades. He is interning with the Second Nature Wilderness Therapy, and he puts his leadership skills to use, leading a warrior group of at risk youth. He helps them work on regulating their emotions and channelling their anger in positiveways.
"I'm most proud of how my skills have transferredinto my professional goals," said Erickson.
You can contact Michelle Greer at [email protected].